30 August 2019
The unlikely rise of #Metoo in Vietnam
Baotran Lim
BAOTRAN LIM: How did this seemingly radical movement find itself in a conservative country like Vietnam, which lacks the vocabulary to even express sexual harassment?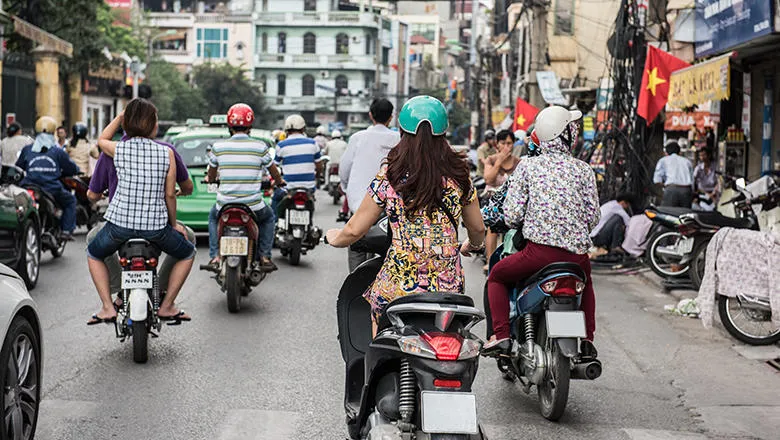 The unlikely rise of #Metoo in Vietnam
This is part of a blog series from undergraduate and master's students who participated in internships and work experience schemes at the Global Institute for Women's Leadership.
Data released earlier this year by Ipsos MORI in collaboration with the Global Institute for Women's Leadership showed that globally sexual harassment is what concerns people the most, when it comes to gender inequality. Despite only going viral in 2017 after the Weinstein allegations, the #MeToo movement was originally founded in 2007 to help survivors of sexual violence. #Metoo has given a voice to victims of sexual harassment enabling them to share stories through unofficial channels, reducing the fear of intimidation victims may have if they went through the police or media. So how did this seemingly radical movement find itself in a conservative country like Vietnam?
Vietnamese people lack the knowledge about what constitutes sexual harassment due to existing limitations in the language. There is a lack of vocabulary to express issues around sexual harassment in Vietnamese, the terms that do exist are on the opposite ends of the spectrum, either describing rape or flirtatious behaviour - there's no in between. This means that not only is there a lack of understanding, but victims of sexual harassment simply do not have the right terms to describe what has happened to them. This is made all the more problematic when research shows that 87% of girls and women have encountered some form of sexual harassment in their lifetime.
There was no mention at all of sexual harassment in the workplace in Vietnam until 2012, when the New Labour Code, containing four articles on sexual harassment, was adopted. However, what the articles fail to provide is protection for the victims and ways to prohibit the misconduct. Also, sexual harassment is not clearly defined, therefore it can be hard for women to recognise it outside of culturally expected norms. After carrying out some focus group interviews, the International Labour Organisation found that there is a tendency to downplay the severity of sexual harassment as it is often embedded in the workplace culture, but its origins lie in the misogynistic view of women in society.
Vietnam has a traditional society built on Confucian ideals. In the 1980s there was a shift in focus from socialist-nation building to the global market economy – the post-Doi Moi era. This meant that women who were previously called to fight for socialism were pushed back into the domestic sphere, as the traditional nuclear family became the norm once more. Society still expects women to be sexually pure, meaning that any discussion of sexual harassment invites impurity and shame. In fact, the idea of sexual harassment has never been in the public discourse – there is a Vietnamese folk saying which translates to: "Flowers are made for people to pick, girls are born for people to tease". So here we have a culture where talking about abuse is not only heavily stigmatised but abuse is seen as trivial, something natural and a part of everyday life. 
The #MeToo movement was already circulating the internet when the first scandal broke out in Vietnam. It was reported by a young woman interning at a distinguished Vietnamese daily newspaper Tuoi Tre, who was raped by her supervising editor and as a result, tried to commit suicide. Even though the investigation was dropped after five months due to what the police deemed a "lack of evidence", the incident sparked the start of the movement in Vietnam where hashtags in Vietnamese started circulating. Many female journalists began coming forward, recounting their stories on social media and asking for a better work environment.
Another incident which added to the movement in Vietnam was against Pham Anh Khoa, a famous rock singer. Khoa was accused of sexual harassment by three different women who had worked with him. The story broke because Pham Lich accused the rock singer of making inappropriate sexual advances and behaviour towards her while at vocal practice, which prompted the other two women to come forward, including an anonymous women who showed how she had developed depression as a result of the trauma. Amidst these scandals, Pham Anh Khoa appeared on national television and apologised for his actions, although he blamed it on normal show business behaviour. In light of these accusations, the United Nations Population Fund (UNFPA) announced that he would lose his title of goodwill ambassador for the protection of women and children against violence.
Sexual harassment in the workplace was never spoken about as an issue in Vietnam. But, the rise of #MeToo around the world has sparked a movement in the country, with women coming forward to share their stories and call for better working environments. While barriers to women speaking up and talking about sexual harassment is deep-rooted in Vietnam's Confucian culture, there is hope that this will change as more and more people speak up about their traumas. We just need to develop a better vocabulary to allow victims of sexual harassment to share without being shamed.
Baotran Lim is a master's student in Public Policy at King's College London and interned at the Global Institute for Women's Leadership in spring 2019.