28 June 2018
Two NMES students secure Entrepreneurship Institute internships
Two students from the Faculty of Natural & Mathematical Sciences have secured 12-week paid internships with the King's Entrepreneurship Institute in a scheme that helps students to gain a better understanding of entrepreneurial core skills. We caught up with Mathematics with Finance student Ria Walia from the Department of Mathematics, and Michael Leeman, studying BEng Electronic Engineering in the Department of Informatics, to find out more about their success.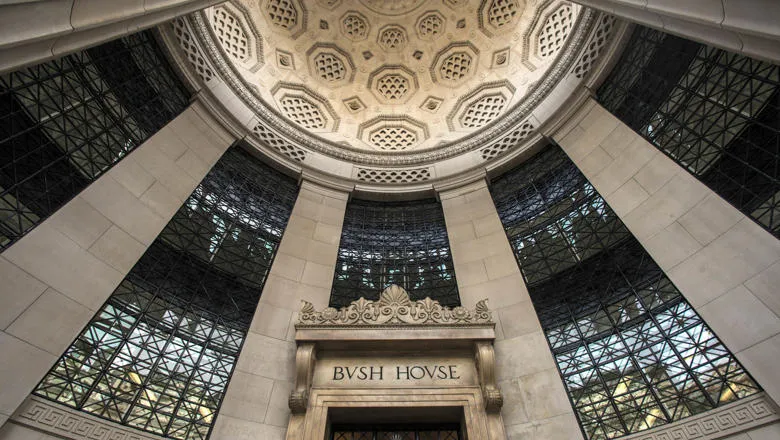 Bush House
Ria Walia
What motivated you to apply for the internship?
Despite studying a mathematical course, which I enjoy very much as it piques my interests greatly, I have also had a keen eye for entrepreneurship. I co-founded [artists' network] XTRA.art, when both my co-founder and I were 17 years old. Thus, when I came to university I placed myself in the periphery of the outstanding Kings20 startups, hoping to learn and also be inspired by their dedication to their ventures.

The EI has been incredibly supportive throughout the past year and being given the opportunity to be a part of their team seemed exceptionally appealing. This would grant me exclusive access to startups and inspiring entrepreneurs to learn from. It's the culture at the Institute that makes it feel like a comfortable yet inspiring space to be in. Before actively joining the Institute I didn't feel as at home amongst any other society or community as I felt here. I was motivated to apply, primarily, so I could deepen my knowledge about the field and entrepreneurship overall.

What most excites you about running XTRA.art?
XTRA.art has been a vessel by which I can channel all my creative energy and my entrepreneurial spirit. Running a startup does not feel like work, it's an addictive passion. I do believe I have been bitten by the entrepreneur bug ever since I began my journey with XTR.art. I am a creative individual; my degree provides me with intellectual stimuli, however XTRA.art fulfils my inner artist. My happiness comes from when our customers - emerging artists - tell us how impactful our services have been to their lives. For example, we scouted a young incredibly talented artist to exhibit their pieces in one of our exhibitions. The artist's family and friends thanked us for giving their daughter a platform to showcase her talent – it's the emotion and gratitude we received from them that touched us. These are the moments that make XTRA.art so special.
Being an entrepreneur means you must wear many hats at one given time. It's the adrenaline I get from multi tasking, thinking on my feet, all under pressure that keeps me wanting more. I enjoy being around people and collaborating with others and I feel this venture has given me the opportunity to network with so many inspiring individuals that otherwise I would have never met. Overall, it's the feeling of building and creating something from its conception that makes it an unbelievable experience. The concept of being able to achieve anything and everything depending on how much work and effort you put behind an idea is what ultimately drives me.
What's the best advice you've ever been given?
Never settle for anything less in life - I remember this quote being said to me at a very young age. This may not be the most groundbreaking advice ever given to me but what it means to me has had a huge impact on my life. I believe in hard work and especially hard work for something you really want, nothing is impossible to gain. When you set your mind to something I really do believe you can achieve it. I never just want to accept anything - I guess this also stems from the principles of mathematics - but strive for something I really dream of achieving.
How do your studies at King's help your work with XTRA.art and vice versa?
There is no doubt that my degree has helped me dramatically in developing my venture. The discipline and rigorous accuracy required for my degree has affected the manner in which I approach business problems. The Entrepreneurship Institute has broaden my horizons in such a small amount of space – this along with the support they have given me has made me love the world of entrepreneurship even more. XTRA.art has taught me a spectrum of skills, especially managing my time and organisation, that have greatly helped me with my studies. The discipline I have developed through running a venture has made the transition into University a smooth one.
What are you most looking forward to about the EI internship?
From my experience with the institute, I believe it provides a holistic environment which nurtures entrepreneurs socially, mentally, and professionally. Whilst I am incredibly excited that I will have an unmatched opportunity to network, I most look forward to being in the office absorbing knowledge about different management styles, business models, personalities, styles of work and so much more! Being amongst the country's most talented entrepreneurs and recognised experts is an environment I really look forward to being surrounded by. I cannot wait to absorb their wisdom and knowledge to develop myself as a budding entrepreneur.
How did you feel when you found out you had been successful?
My first thought was I cannot believe I have the opportunity to spend an entire summer doing what I love in the Institute that I admire so much, surrounded by like-minded people. During term time I would salvage as many hours as possible and find ways I could be a part of the Institute's activities. So knowing that I can now spend an entire summer there has made me incredibly excited. Many universities cannot offer what the KEI can, and being able to devote months in a space I absolutely adore is a dream come true. I feel like a child in a sweetshop – it's every entrepreneur's heaven!
Michael Leeman
What motivated you in apply for the internship?
I applied for this internship because I wanted to discover what it takes to be a successful entrepreneur. As a student who aspires to run their own business, I knew that taking this opportunity will enable me to develop and hone my entrepreneurial skills and knowledge.
Having the chance to work for two of the King's20 accelerators is a unique opportunity to gain a comprehensive insight into the process of running and establishing a start-up company.
So far, I have learnt that being an entrepreneur can be both challenging and fulfilling. Running your own business requires unwavering commit, focus and determination. These are qualities that I am currently picking up while working with the team at Deepfinity, one of the King's20 accelerator start-ups.
What most excites you about the opportunities for entrepreneurial work on your course, and in your new entrepreneurial position with Roar News?
What excites me the most about doing entrepreneurial work is the fact that I can apply my entrepreneurial skills in projects and implement my business theory into practice. During the first year of my Electronic Engineering course, I undertook the Engineering and Entrepreneurial module. This enabled me to obtain essential skills including leadership, market research and communication that are vital for operating a business.
What do you think are the most challenging and the most rewarding things about being an entrepreneur in 2018?
The most challenging thing about being an entrepreneur in 2018 is how much more competitive business has become. With the world becoming ever more globalised and with competition arising from emerging economies, it's more difficult to stand-out and establish oneself in the market. This is why becoming a successful entrepreneur is perhaps one of the hardest professions to get into.
The most rewarding thing about becoming an entrepreneur in 2018 is being able to innovate a product or service that can help solve a problem and benefit millions of customers. Technology is rapidly advancing, especially in virtual reality and artificial intelligence. This can be exciting for start-ups as they have the opportunity to be pioneers.
What's the best advice you've ever been given?
One of the best pieces of advice I have received was during my interview for the internship. I was told that to be a successful intern I should strive to go "above and beyond" and take any opportunities that arise. Ideally, I should always be seeking to improve myself wherever possible and not be afraid of making mistakes, as we learn best through failure. Having this attitude is key to be a successful entrepreneur as well.
Also, this relates to another piece of advice that I have received during my internship; that an important characteristic of an entrepreneur is to be persistent. Don't settle for less when you can have more, and keep going even when you fail.
What are you most looking forward to about the EI internship?
When first going into the EI internship, I was mostly looking forward to meeting everyone at the EI and hearing about their individual journeys into entrepreneurship. The stories I heard were fascinating. I was surprised by how the King's20 accelerators I was talking to were once King's students in the same position as me just a couple of years ago. This inspired me so much, reinforcing my ambitions for setting up my own business even more.


Read more about internships at the Entrepreneurship Institute