01 April 2019
UK and EU ambassadors endorse refugee education projects
PADILEIA study hubs in Lebanon were visited by the UK and EU Ambassadors for the region as part of a trip to support education projects for refugee and displaced young people.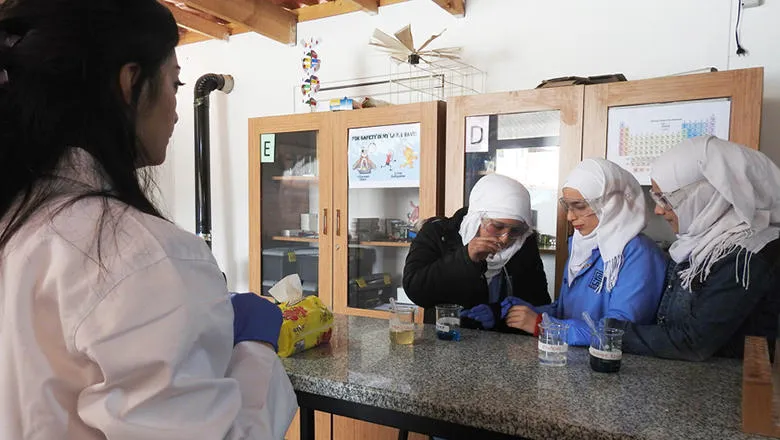 NGO Kayany Foundation, part of the HOPES project
As a result of the Syrian refugee crisis, many young people have sought refuge in surrounding countries such as Jordan and Lebanon and only a small number have access to  higher education.  UNESCO has estimated that  only 1% of eligible refugees have access to higher education around the world, compared to 36% of youth worldwide.*
Responding to this crisis, the PADILEIA (Partnership for Digital Learning and Increased Access) programme, led by King's, and the HOPES (Higher Education Opportunities and Perspectives for Syrians) project, aim to give young people back their right to education. To date, the five-year PADILEIA project, which is funded by the UK's Department for International Development through the Strategic Partnerships for Higher Education Innovation and Reform (SPHEIR) programme, has supported over 1000 students in Jordan and Lebanon to access higher education services and is aiming to reach over 6000 students by 2021.
Both projects respond to the scale of the crisis that both refugees and host communities have faced after being displaced or while hosting displaced people. American University of Beirut's (AUB) Centre for Civic Engagement and Community Service, in collaboration with the local NGO Kayany Foundation, manages the PADILEIA college-readiness Foundation Certificate and the HOPES project "Science Education: A Key to University Access for Refugee Girls" in the Beqaa Valley, Lebanon.
Chris Rampling MBE, British Ambassador to Lebanon, and Christina Lassen, Head of the Delegation of the European Union to Lebanon, visited Kayany Foundation's girls school in Bar Elias, where the HOPES project, funded by the European Union, installed new science laboratories in the school, hoping to increase the female interest in STEM (Science, Technology, Engineering and Maths) subjects. The Ambassadors then visited the adjoining PADILEIA study hubs and heard from young refugees about their efforts to enter higher education.
Ambassador Lassen said: "Our visit to the Beqaa showcases the vast array of support that the EU and its Member States are providing in Lebanon. It shows that humanitarian aid, safety, security, education and economic development go hand-in-hand if local communities are to prosper and be able to face the difficult economic and social challenges that affect the region. The EU and the UK are working closely together to support Lebanon and will continue to do so."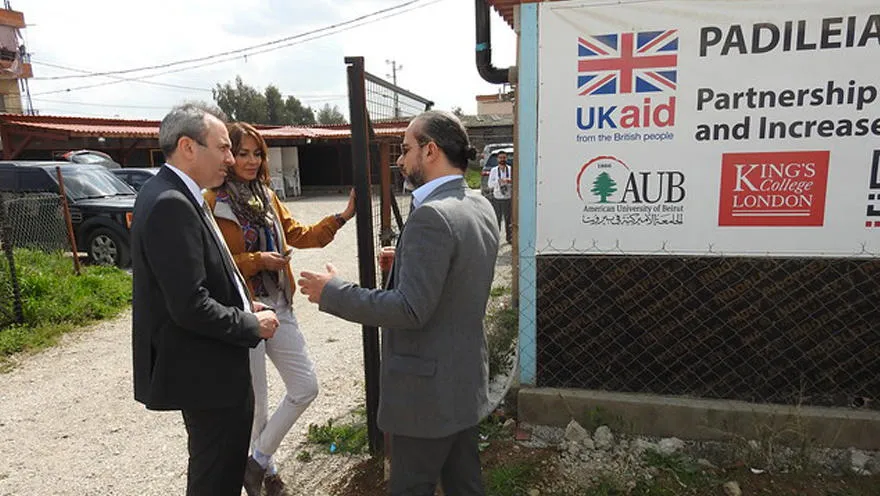 PADILEIA is funded by the UK's Department for International Development (DFID) UK Aid #SPHEIR programme and is led by King's College London (UK), working with the American University of Beirut (Lebanon), Al al-Bayt University (Jordan), Kiron Open Higher Education gGmbH (Germany) and FutureLearn (UK)
*Stats from The United Nations Educational, Scientific and Cultural Organisation (UNESCO)
In this story