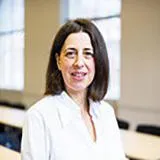 Dr Tania Lima
Director of Global Engagement
Contact details
Biography
Dr Tania Lima is the Director of Global Engagement at King's College London, responsible for the College academic partnerships and country offices; in this role, she leads on partnership strategy, including implementation, delivery and evaluation, working closely with all Faculties at King's.
Tania has a BSc in Biology from Universidade de Sao Paulo in Brazil, a Masters in Microbiology and Immunology from Federal University of Sao Paulo, and was a PhD exchange student in Molecular Biology at New York University, where she was also a post-doctoral fellow.
She has experience in international collaborative initiatives in genomics, bioinformatics and proteomics, as well as collaborations in cancer research, with a particular focus on international consortia and global partnerships.
At Universities UK International she was responsible for scholarship, capacity-building and research collaboration programmes, with special focus on government-funded programmes, outward student mobility, transnational education, and international scholarship schemes.
Tania is also the Lead PI in PADILEIA, a UK DFID grant to increase access to higher education for Syrian refugees in Jordan and Lebanon using blended learning approaches.