26 November 2019
Unveiling Nancy Astor's complicated legacy
Julie Gottlieb
JULIE GOTTLIEB: It's 100 years since the first woman to took her seat in the UK Parliament, but what was Astor actually like?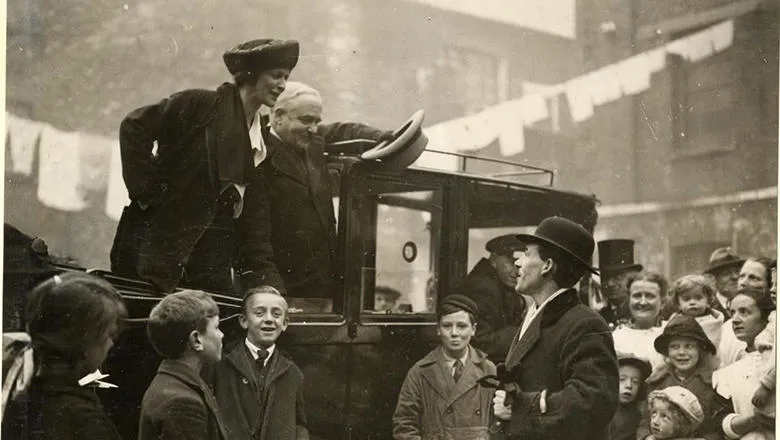 Nancy Astor, the first woman MP to take her seat in the House of Commons
The centenary commemoration of Nancy Astor's election to Parliament to become the first woman to take her seat in the House of Commons couldn't be more relevant and resonant. Since the passage of the Parliament (Qualification of Women) Act passed in November 1918, there have been 497 women Members of Parliament, and two of these have become Prime Minister. Whilst only a trickle of women made up the first generation of female MPs, the pace of change has slowly accelerated particularly at the last elections, bringing the total of women MPs at the last parliament to 32%. This goes some way to honouring Astor's legacy.
Despite these growing numbers, it hardly feels like a moment for rejoicing about the place and the status of women in British politics. Met with the prospect an anger-fuelled, rage-filled and highly polarised UK General Election, a significant number of women MPs have decided not to stand again. Strikingly, around half of the 18 resigning are Conservative women — the same political party as Astor. For too many, the reason is the intolerable levels of aggression and intimidation they have faced in the line of duty whilst Brexit debate has raged on and remained unresolved.
What might Astor have made of this sorry state of the affairs of state? From her first appearances in the House, she herself was subjected to overt sexism and hostility from male colleagues. Her election by means of a by-election in the Sutton Division of Plymouth "caused the utmost concern and consternation among men of her own Party", who regarded Westminster as "a place that should remain free from feminist politics". Her reception in parliament was met with "abominable rudeness." The men, many of whom were already her friends, "cold-shouldered her" in an effort to "make her quit the Commons".  Winston Churchill "would have nothing to do with her", and as the years wore on they sparred, exchanging insults in social and political life.  
Astor's long parliamentary career over almost three decades is indicative of her resolve to stand up to sexism. Nevertheless, whilst we might applaud her resilience standing up to attacks from colleagues and the media because of her sex, she was also a much more complex and problematic figure than we might like to envisage for the first woman MP.  
She was identified as the titular leader of the so-called Cliveden Set, a semi-mythical cabal of politicians and journalists working behind the scenes to foster Anglo-German understanding in the 1930s. What's more we cannot get away from the fact that she was a "fellow traveller" of the Right, that she had no qualms about entertaining Nazis, expressing deep prejudices herself.
Her role as arch-appeaser was a stain she tried to wash off at the beginning of the Second World War, through vigorous and patriotic wartime activities that landed her name on the Gestapo Blacklist in the event of a Nazi invasion. And this entanglement in the politics of appeasement in the 1930s makes it more difficult to "celebrate" her actual achievements.
Still, on balance, Astor's legacy merits commemoration for reasons beyond her symbolically important achievement of being the "first". Of the 36 women who became MPs between the wars, she is one of a handful who achieved celebrity status and who was widely recognisable. Most important, she fulfilled the role history imposed on her as the first woman MP. While women MPs have often been ambivalent about being seen as a woman first and a representative of a political party second, Astor accepted that she was a representative for women, regardless of party. Although she had played no part in the suffrage campaign pre-WWI, she worked above party with fellow women representatives in both domestic and international politics, aligning herself with women's causes, passing "feminist" legislation in 1920s, and during the Second World War working on issues related to "Woman Power".
For these reasons Astor is worthy of the international, national, and local efforts being made to mark her centenary. She is attracting renewed attention across the Atlantic, given she was a Virginian and due to the 2020 centenary of the US 19th Amendment, which gave American women the vote. At the national level events in the UK organised by #Astor100 have been extensive; and at the local level her statue will be unveiled in Plymouth this week on 28 November.
For me, #Astor100 should be about celebrating the historical milestone she achieved in the cyclical story of women's political emancipation in Britain. That Astor happened to be a colourful figure, elegant and well-dressed (much commented upon at the time), witty, and well-connected, helps explain why she made a name for herself in parliament and serves well as the focal point of these commemorations. However, despite contributions to furthering women's causes, her legacy is complicated enough that we should beware of going overboard in celebrating her as an individual.
Julie V. Gottlieb is Professor of Modern History at the University of Sheffield. As well as writing extensively on the history of women in politics in 20th century Britain, she was historical consultant on the statue of Millicent Garrett Fawcett in Parliament Square.