06 May 2020
'We need the Arts and Humanities to give us a deep perspective of the human condition'
Philosophy graduate Eivinas Butkus has taken an interesting career path into AI and cognitive science since graduating from King's only two years ago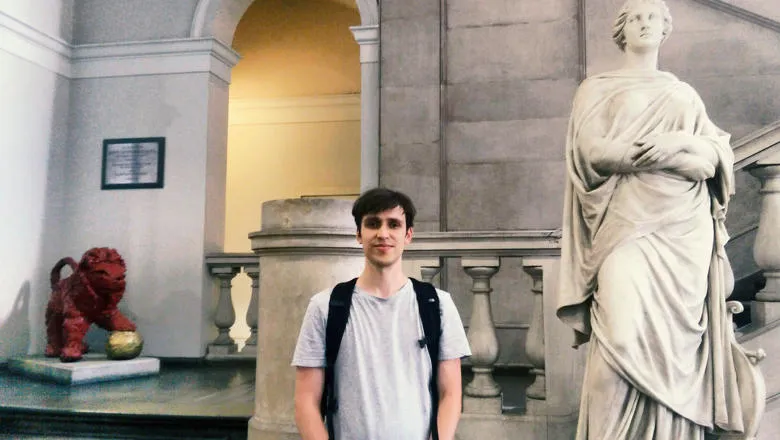 King's Philosophy Undergraduate Alumni Eivinas Butkus now works as part of the Cognitive and Neural Computation Lab in the Psychology Department at Yale University.
"Arts and humanities subjects give us a deep perspective of the human condition that can help us structure society and manage priorities in science and engineering."
King's Philosophy Undergraduate Alumni Eivinas Butkus now works as part of the Cognitive and Neural Computation Lab in the Psychology Department at Yale University. He has taken an interesting career path since graduating from King's only two years ago, using an Arts and Humanities degree to move into an area of cognitive science, AI and neuroscience where philosophy is still relevant.
Eivinas says: "Arts and humanities courses, Philosophy in particular, have something to teach and say about other disciplines. For instance, there is almost no way one can escape the notion of a mental representation in cognitive science, which has been analysed extensively in philosophy.
"I am an advocate of interdisciplinarity. It is very dangerous to simply develop, say, recommendation algorithms for YouTube without thinking about the social and ethical consequences. Without Arts and Humanities, we will not be able to fully evaluate the ethics of scientific and engineering advances.
"We may also predict that many people will lose their jobs due to automation, and we can ask Arts/Humanities experts with  their vast cultural knowledge to reimagine society without work," adds Eivinas.
Eivinas was selected for Talents for Lithuania Fund – a crowdfunding initiative for talented Lithuanian students and was featured on TV
Eivinas says that studying Philosophy at King's laid a very strong foundation for his academic development. He learnt how to process difficult material, how to present a convincing and clear argument and uses the foundational thinking tools he developed during his course to approach difficult problems almost every day.
During his degree, Eivinas got more and more interested in artificial intelligence and the philosophical issues regarding AI. With the help of his thesis supervisors Dr. Patrick Butlin and Professor David Papineau , Eivinas ended up exploring the question of understanding in AI.
He was trying to answer the question 'what would it take to create machines that truly understood what they were doing'.
"I got acquainted with many different areas of philosophy – King's is famous in terms of the breadth of Philosophy modules on offer. But this is not to say that depth is sacrificed at King's. In particular, I took two Philosophy of Psychology modules, which were very influential in forming my interests and have definitely contributed to my now being part of the Psychology department at Yale University," Eivinas adds.
It was not only the academic side of King's that shaped Eivinas for his future career.
"King's is quite literally in the middle of an exciting international city. Studying in London was very formative – I met so many people from all around the world both inside and outside of King's. It truly broadened my perspective, shaped my values and gave me a much richer understanding of the world," he adds.
Now, Eivinas says the lab where he works is at the intersection of cognitive science, AI and neuroscience, and the team focuses on how humans take the noisy and complicated perceptual input like the image on the retina and transform it into something useful like representations of physical objects and people.
His future plan is to apply for a PhD in Computational Cognitive Science.
"In the future, I would like to continue researching human cognition, while at the same time using insights from that research to build more reliable and robust artificial intelligence systems.
"It is hard to overstate how important the skills I learnt at King's are both in my research now and even my daily life, say, when I read the news," adds Eivinas.
To apply for an Undergraduate degree in Philosophy, click here.