12 April 2018
What can we do to help you accelerate change?
Laura Jones, Research Associate
We'd love to hear your ideas for what the Global Institute for Women's Leadership's should be working on
The launch of the Global Institute for Women's Leadership
At our launch event last week, our Institute Chair, Julia Gillard, said that as a young woman she thought we lived in a self-correcting world where gender equality was just a matter of time. But sadly, despite some hard-won gains, that's not the case: at the current glacial rate of progress, it'll take over two centuries until we close the global economic gender gap.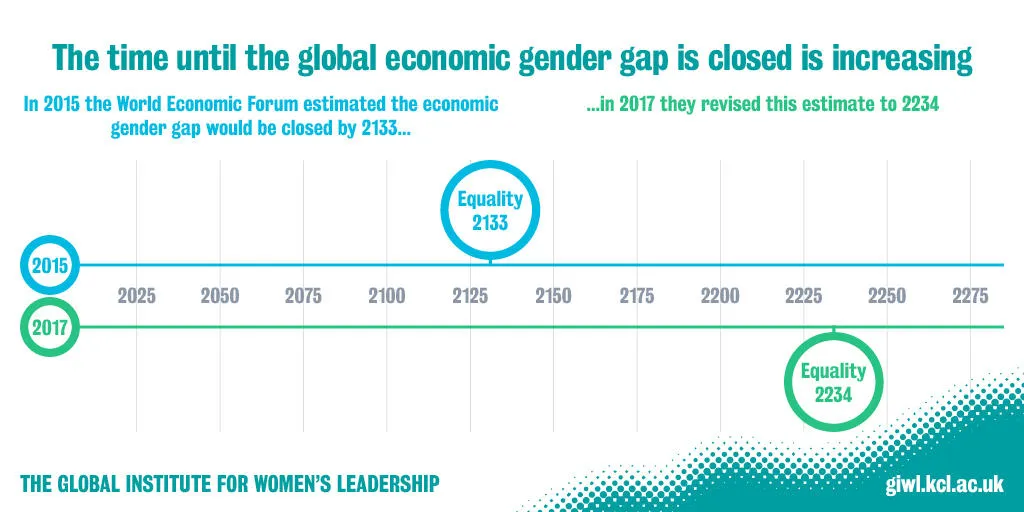 It's been estimated that it will take 217 years to close the economic gender gap
For many people this situation is puzzling. Surely there is already a large amount of effort being put into making change – why isn't it paying off? Our analysis is that this stems, in part, from a disconnect between much current activity and what the evidence base actually says is effective.
To take just one example, there is very little evidence that diversity training efforts – such an unconscious bias training – have any effect, and yet almost all Fortune 500 companies make use of them, at considerable expense. Indeed, one large-scale study of 800 US firms found that after five years companies with mandatory diversity training saw no increase in the percentage of white female managers, and a decrease in black and Asian female managers. Part of this may be down to the fact that people resent being sent on what is often seen as 'remedial' training and rebel against the perceived coercion.
We have some sympathy. The reason why this disconnect exists is because the two sides – the evidence generators and the evidence users – are often speaking different languages (academic vs 'human'), working to different timescales, and moving in different networks. They are also dotted around the world, meaning that we overlook solutions that exist in other countries.
If we're going to change this, then we have make it easy for decision makers to do the right thing. At the GIWL, we spend our time thinking about gender, but we understand most people don't. However, they still want answers to questions like 'What works?' or 'What can I do?'. In the absence of such answers, the fact that every other large company is offering unconscious bias training makes it harder for decision makers to stick their necks out and do things differently. And it makes it harder for their employees, activists and the media to hold them to account.
With all that in mind, part of what we'll be doing here at the Institute is trying to bridge the gap between these two worlds and make it easy to access and use evidence. So, over the next few weeks and months we'll be producing concise evidence-based briefings, as well as bringing people together to try and break down the silos that some of the key players in this debate tend to be confined to.
Those are our thoughts on at least part of what our work will be, but we want to hear a range of views. Since we launched, we've been overwhelmed by the enthusiasm and support for our vision, and by people's thoughts on how we might be able to help or work together.
We're dedicated to creating a community of people focused on advancing women's leadership, so if you have an idea about what the Institute might be able to do to help you accelerate change, please get in touch. We'd love to hear from you.