20 August 2023
What women want: why women will decide the next election
Polling shows Labour's lead among women is vast – but a lot could still change to shift women's opinions
The Global Institute for Women's Leadership regularly engages and collaborates with organisations across the political spectrum, helping to disseminate our message and research findings to broad audiences of decision-makers.
For example, GIWL Director Professor Rosie Campbell recently wrote for centre-right think tank Bright Blue on how diverse workplaces have benefits for all, and has co-authored a new report for Labour Together, published yesterday and featured in the Observer, which explores the pivotal role of women in shaping the outcome of the UK's next general election. It reveals:
In almost every election from 1945 to 2015, the Labour party won more votes from men than from women, making Britain an international outlier. In the US, divisive social issues such as abortion had pushed women to the left much longer ago, in the 1980s. But in Britain, the Conservative party won more votes from women than men until as recently as 2017.

This has now changed: new polling puts Labour ahead of the Conservatives by 28 points among women. Yet despite this substantial shift, a quarter of women are still undecided on how they will vote. They could therefore be critical to the outcome of the next election, and a lot could change over the next 12 months to shift women's opinions.

Another significant shift – with implications for the future – is the growing gender divide in political views among young people. A new generation of young women are leaning more to the left, on both social and economic issues, than young men, who are becoming more conservative. How this plays out in the coming years could shape the electoral landscape in Britain.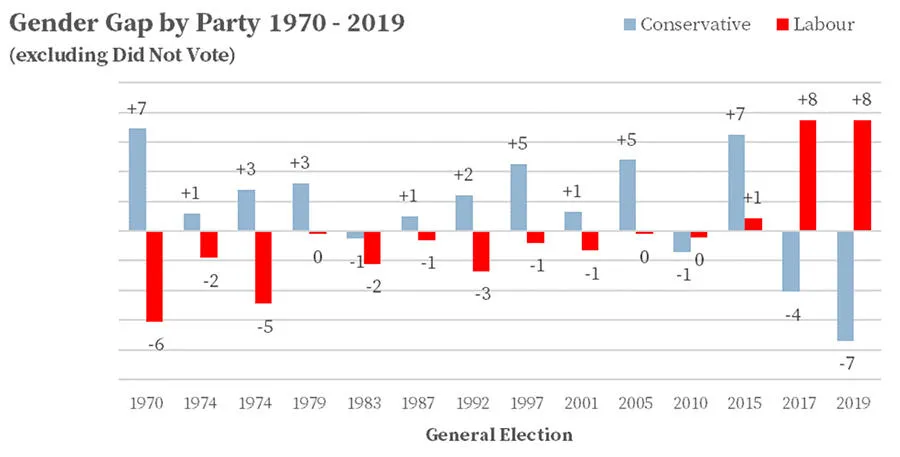 Professor Rosie Campbell, Director of the Global Institute for Women's Leadership, said:
"Women voters will be critical to the outcome of the next election. Labour Together's polling shows that Labour's lead among women is vast, but it is by no means guaranteed. Women are just as likely to turnout to vote as men, but more women make up their minds during the campaign. A lot could change over the next 12 months to shift women's opinions. Concerns about household finances, the NHS and other public services underly women under 50's shift to Labour. The party will need to stay ahead on these issues to deliver what women want and secure their support in crucial marginal constituencies."