11 September 2020
Women are hugely underrepresented in business and finance news coverage
Laura Jones and Ylva Baeckstrom
Women represent less than a fifth of those quoted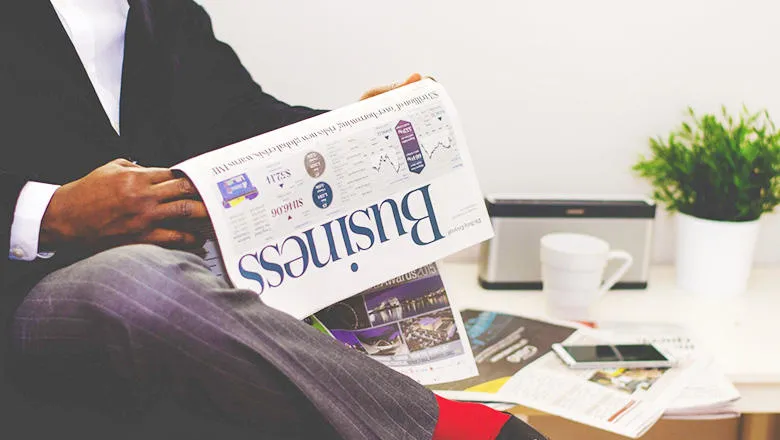 Read the report
The gender balance in representation in the business and finance media over time
Women make up less than a fifth of those quoted in UK newspaper reporting of business and finance news. Although over the last 20 years there has been a slow but steady rise in references to women, and in the reporting of their voices and opinions, this falls far short of equality, and women are even more underrepresented among notable business people featured in the press.
These are the key conclusions of our latest report which uses techniques drawn from the world of machine learning to analyse almost a quarter of a million articles taken from the Business section of the Guardian over the last two decades, and three business-focused news publications – the Financial Times, the Economist and City A.M. over the last six years.
Inspired by recent work analysing the Culture section of the Guardian, which found a rapid rise in references to women and space allocated to their voices over the last five years, we wanted to know whether the same progress could be seen in other, even more traditionally male-dominated areas. Previous studies which analyse female representation in the media have found that, second only to sport, it is in business- and finance-related articles that women are most severely underrepresented.
This issue of the underrepresentation of women in the sector has gained increased prominence in the UK since the Gadhia review, and the launch of the HM Treasury Women in Finance Charter in March 2016. With our research we wanted to look beyond the number of women employed and look instead at their visibility.
Steady but slow change in the amount of space devoted to women and women's voices
In 2000 only 8% of gendered pronouns mentioned in the Business section of the Guardian were female, rising to 17% in 2019. Although this represents progress, at a rate of less than half a percentage point a year it will take at least a further 60 years to reach equal gender representation.
Percentage of gendered pronouns that are female in select sections of the Guardian, 2000-2020
Although the Guardian's open access database makes it possible to analyse content from the last two decades it may not necessarily be the most relevant or visible source of financial and business news. Therefore, we also analysed three business and finance focused sources – the Financial Times, the Economist and City A.M., but were only able to do so for the last 6 years.
To differentiate between a woman being merely mentioned and receiving space to express her opinions in the article, we analysed the number of speech verbs (e.g. "she said", "she explained") that could be attributed to either gender and found that in 2020 less than a fifth – 18% – of quotations could be attributed to women, up from 13% in 2014.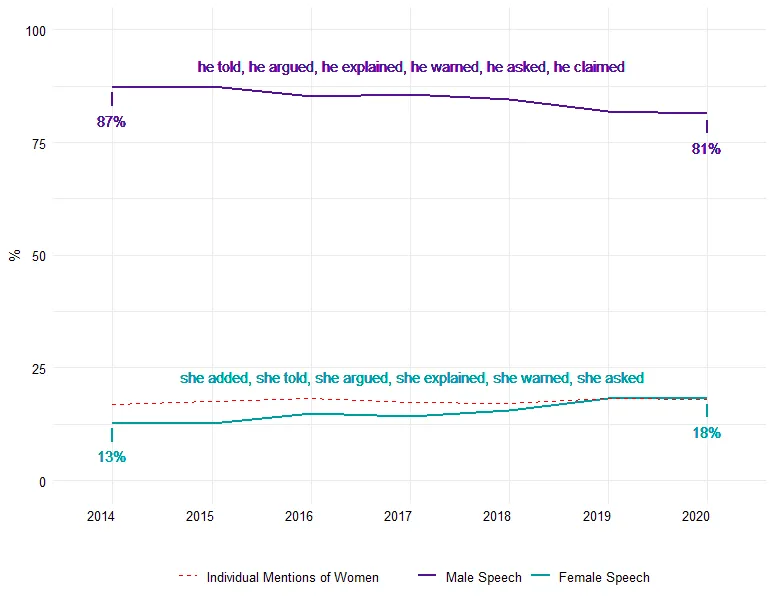 Ratio of male to female speech in the Financial Times, the Economist and City A.M., 2014-2020
Women still underrepresented on some of the key issues
As the Guardian tags articles with keywords, we were able to zoom in on the representation of women in articles covering particular business- and finance-related topics. In the context of ensuring that female voices are present in key decision-making moments two findings are worth highlighting.
The first is the low representation of female pronouns in articles related to the annual UK budget: 4% during 2011-2015 and 8% during 2016-2020. While this represents a doubling of female pronouns in percentage point terms between the time periods, it still remains a depressingly small proportion. Second, as businesses face unprecedented challenges in the wake of the Covid-19 pandemic, it is more important than ever that a diversity of voices are heard, and yet just 17% of pronouns in business articles related to the pandemic are female.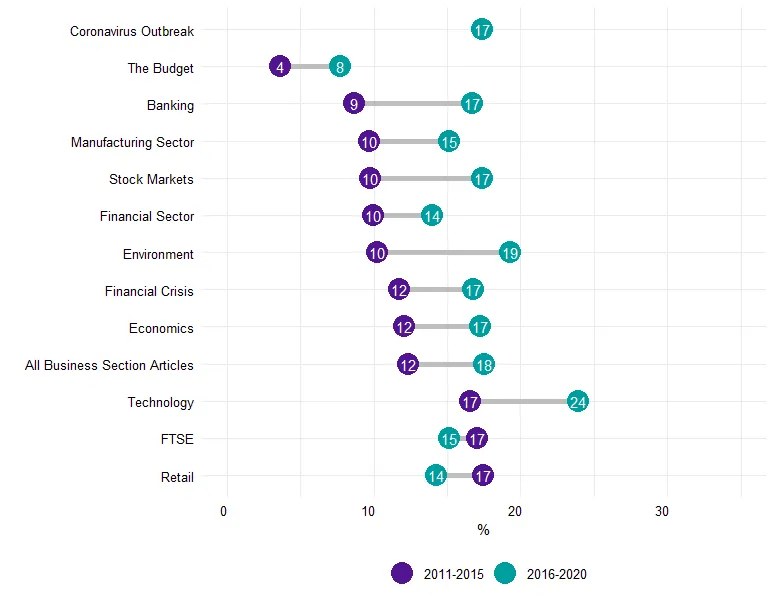 Percentage of gendered pronouns that are female in the Business section of the Guardian, by select keywords, 2011-2015 and 2016-2020
Even lower female representation among notable voices
We found that only 9% of mentions of politicians and notable business people in the financial press were of women. This is lower than the female share of quoted speech, and much lower than women's representation within these professions in the wider population. This analysis was carried out using Wikipedia URLs attached to articles featuring well-known people. The URLs were used to automatically pull information from Wikipedia on that person's gender and occupation.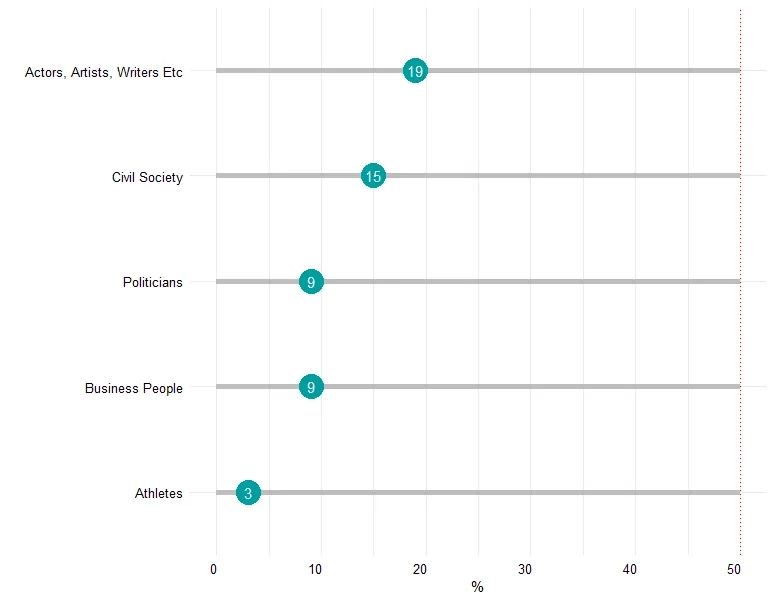 Women's representation among notable people mentioned in the Financial Times, the Economist and City A.M., 2014-2020
The research demonstrates how pervasive and enduring gender imbalances in reporting on business and finance are. The findings reflect the persistent underrepresentation of women within the sector more widely and highlights the importance of continuing to push for further change to allow female role models and perspectives to be seen and heard.
Laura Jones is a Research Associate at the Global Institute for Women's Leadership at King's College London.
Dr Ylva Baeckstrom is a Lecturer in Banking and Finance at King's Business School.