28 August 2019
Women are the key to economic development in third-world countries
Aisha Abdi
AISHA ABDI: Giving women greater economic empowerment benefits their households, their communities and ultimately their countries.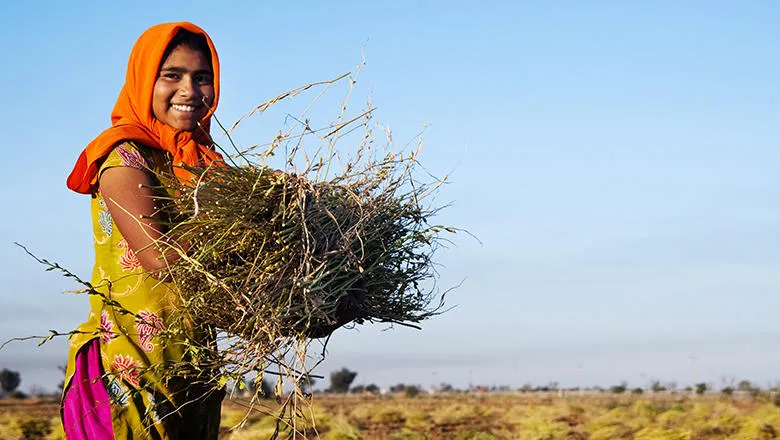 Giving women greater economic empowerment benefits their households, their communities and ultimately their countries.
This is part of a blog series from undergraduate and master's students who participated in internships and work experience schemes at the Global Institute for Women's Leadership.
On International Women's Day 2019, the UN Women Partners met with BNP Paribas to promote women's economic empowerment by supporting women in agriculture and sustainable development in Senegal. With this project, the UN aims to demonstrates its commitment to promoting women's empowerment in order to achieve Sustainable Development Goal 5 – to achieve gender equality and empower women and girls. But, as Acting Regional Director for West and Central Africa, Oulimata Sarr, states it's not just about furthering equality, women are actually key to the economic development of third-world countries like Senegal: "Women are at the centre of Senegalese development and we want to support them in promising agricultural value chains to ensure their sustainable economic empowerment."
Giving women greater economic empowerment means enabling women to increase their right to economic resources and their control over meaningful decisions that benefit themselves, their households and their communities. These include the right to control their own time, their income and access to participation in existing markets equally. Greater empowerment improves their well-being and economic status.
Gender inequality remains an issue in the Sub-Saharan Africa region, it is one of the most unequal areas in the world and progress is much slower than in other regions. Much of the gender inequality in developing countries is caused by the prevalence of cultural norms that aggravate favouritism towards males.
Gender inequality comes at a significant economic cost as it hinders productivity and economic growth globally, countries are losing $160 trillion in wealth because of differences in lifetime earnings between women and men. In addition, an IMF staff note paper showed that the obstacles to women entering the labour market have more economic cost than was believed to be the case, and benefits from reducing the barrier of gender inequality are likely to be larger than initially thought. Reducing gender inequality is therefore key to economic development.
Empowering more women to work, results in better growth of third-world economies. This is because women's economic empowerment, increases economic diversification, boosts productivity and income equality, resulting in other positive development outcomes. As a study from the IMF shows, policies that improve access to educational opportunities and finance for women can contribute to a reduction in inequality and an increase in economic growth for the developing country. Providing women and girls with more educational opportunities contributes to: "reductions in fertility rates and increases in labour force participation rates, and in which thereby better quality of human capital of the future economy and generations."
In Sub-Saharan Africa, fewer girls enrol in primary school than boys and there is an even lower enrollment rate in secondary school for girls compared with boys. Girls in this region are often prevented from attending school due to poverty and work demands at home, this is then further aggravated by higher rates of child marriage amongst girls in this situation.
However, poverty decreases when more women and girls are educated. This is because with basic education, a woman is more likely to obtain a job and earn a higher wage since one percentage point increase in female education raises the average level of GDP by 0.37 percentage points.
It's not only about women earning higher wages, women also benefit their families and communities as they are often more likely to spend money on things that support their children, the household. This then improves the chances of their family to achieve health and prosperity. 
Giving girls equal access to education and opportunities, enables them to eventually grow into educated, resilient women able to take on leadership roles in their countries, resulting in significant positive developmental outcomes for that country. This in turn helps to speed up the reduction in gender inequality, as having more women in leadership roles, means they develop policies that will increase support for women and girls.
For example, President Ellen Johnson Sirleaf of Liberia, Africa's first female president, advocated the safety of women, empowerment of women, and women's rights to participation in peace-building work. In countries such as Rwanda, an increase in the number of female politician and lawmakers has furthered gender equality by implementing reproductive rights and equal land rights for women, which has helped increase investments in land by 18 percentage points, twice the level observed for men. They have also established gender desks at police stations to help women who face domestic violence and other forms of violence.
Women are crucial to the economic development of countries. By empowering women through policies such as greater access to educational opportunities and finance, this results in better economic development for everyone as women with economic resources and control over meaningful decisions tend not only to benefit themselves but also their households and communities. Women's equality is vital to increasing sustainable economic growth in developing countries, in order to empower more women and girls, there needs to be better access to education, health and opportunities in the labour market.
Aisha Abdi is an undergraduate student in International Development in her second year at King's College London. She did a work experience post at the Global Institute for Women's Leadership.