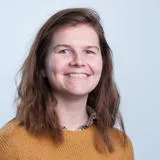 Abbie Russell
Organisational Development Programme Manager (Workplace Culture & Engagement)
Biography
Abbie (she/her) joined the Organisational Development team in June 2023 and has been working to embed the King's Behavioural Framework, Our Principles in Action, throughout the University. She also works with colleagues across the University to develop activities that enable a positive and inclusive workplace culture in which staff at King's feel a sense of belonging, empowered to reach their potential, and supported to succeed.
Previous to working in Organisational Development at King's, Abbie worked with the King's Volunteering team, coordinating volunteering opportunities across the university for students, staff, and alumni. In 2022, Abbie helped to launch a new online service for the King's community and third-sector partners to access, promote, and evaluate volunteering opportunities.
Abbie joined King's in 2016 as an Administrative Support Officer at the Institute of Psychiatry, Psychology & Neuroscience (IoPPN), and in 2018 she was appointed as the IoPPN's first ever Disability Equality Champion and helped to launch the King's staff disability inclusion network, Access King's, as the network's Co Chair (Community). She went on to become an Engagement Officer in 2020 before joining the Volunteering team in 2022.
Abbie has previously worked in the charity and healthcare sectors, working to implement new processes and onboarding new staff. She has also volunteered for a number of different charities and organisations such as The Prince's Trust, The Bike Project, local community gardens, and various conferences and festivals.