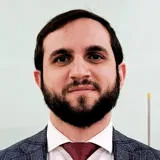 Dr Abdullatif Aydın
Academic Clinical Fellow in Urology
Honorary Clinical Lecturer in Surgical Sciences and Technology
Contact details
Biography
Dr Abdullatif Aydın qualified from Barts and The London School of Medicine and Dentistry, Queen Mary University of London, where he received the Brackenbury and Waring Scholarship in Surgery (2013). He completed his intercalated BSc (Hons) in Anatomy at King's College London, where he undertook modules in Anatomy and Surgical Sciences. His thesis on Simulation training for GreenLight Laser Prostatectomy was published in BJU Int (https://doi.org/10.1111/bju.12842).
Abdullatif was the primary investigator for the SIMULATE RCT, the world's first global randomised controlled trial evaluating the role of simulation in surgical training, in his capacity as The Urology Foundation PhD Simulation Fellow at King's College London.
Protocol: https://doi.org/10.1111/bju.15056
RCT Findings: http://doi.org/10.1016/j.eururo.2021.10.030
He has received several prestigious international awards for this ground-breaking research including:
European Urology Resident's Corner Award for the best Resident Paper in 2022 - European Association of Urology, Amsterdam, NL (July 2022)
Best Poster - International Conference on Surgical Education and Training (ICOSET), Royal College of Surgeons of Edinburgh, UK (June 2022) 
Best Publication by IAT Academic Clinical Fellow - King's College London, King's Health Partners (May 2022) 
RSM Future Projects Prize - Royal Society of Medicine, London, UK (Jan 2019) 
AO Foundation Award for Surgical Simulation - The Association for Medical Education in Europe (AMEE), Basel, Switzerland (Aug 2018) 
Best Abstract - Société Internationale D'urologie (SIU), Lisbon, Portugal (Oct 2017)
Best Poster in "Education and Training" - European Association of Urology, London, UK (Mar 2017)
His research interests are in medical and surgical education, the role of AI and technology in surgery, urological disease and management, clinical anatomy, and the history of medicine. He has authored more than 70 peer-reviewed publications, presented at many international conferences, and is a frequent reviewer for many international journals. He is a Module Organiser and Lecturer for the Surgical Sciences and Research in Surgical Sciences & Technology intercalated BSc modules. He is also a co-lead for the Surgical & Interventional Technology MSc module.
He continues to supervise students for SSC and iBSc projects in Surgical Education and Technology. Abdullatif is currently undertaking his specialist training in Urology and is an active member of the International Alliance of Urolithiasis (IAU) and the European Association of Urology (EAU).
Course Teacher:
Surgical Sciences (6BBYS301) module, as part of the intercalated BSc in Anatomy
Research Projects in Surgical Sciences & Technology (6BBYS302) module, as part of the intercalated BSc in Anatomy
Surgical & Interventional Technology (7MRI0150), as part of the MSc / MEng / MRes in Healthcare Technology courses
Non-technical Skills for Urological Surgeons (NoTSUS) - EAU hands-on training course for non-technical skills
HEE London Deanery hands-on Simulation Training courses
Course Leader:
Surgical Sciences (6BBYS301) module, as part of the intercalated BSc in Anatomy
Research Projects in Surgical Sciences & Technology (6BBYS302) module, as part of the intercalated BSc in Anatomy
Surgical & Interventional Technology (7MRI0150), as part of the MSc / MEng / MRes in Healthcare Technology courses
Core Skills in Microsurgery - annual course delivered to iBSc students in Surgical Sciences and surgical trainees
Basic Surgical Skills for Students and Core Laparoscopic Skills for Students - delivered as part of iBSc Surgical Sciences throughout the academic year