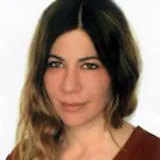 Dr Akrivi Taousiani
Senior Lecturer in Classics (Education) & Language Coordinator
Contact details
Biography
I studied Classics at the University of Bristol (BA), and the University College London (MA), where I completed my PhD on Sophocles' Philoctetes. My thesis explores Sophoclean dolos  and its ability to redefine truth as a rhetorical vehicle and a theatrical construct. I have taught at the University College London, King's College London, and the Open University in Cyprus.
Research Interests and PhD supervision
Theatricality and performance in Greek tragedy
Persuasion and oratorical tropes
Political thought and the evolution of morality
Teaching
I teach Ancient Greek and Latin language at all levels. I have also taught modules on translation theory and the evolution of teaching ancient texts in Europe.
Publications
'OY MĒ PΙTHĒΤΑΙ: Persuasion Versus Deception in the Prologue of Sophocles' Philoctetes' (The Classical Quarterly, November 2011, Volume 61, Issue 02, pp. 426-444).
'Why Plato got it wrong: when seeing is thinking in Greek Tragedy' (forthcoming)
'Αγάπης ἄγων ἄγονος: Love's Labour Lost and the tragic agon  in the 5th Century BC'  in  (eds.) M. Edwards, A. Efstathiou , I. Karamanou  and E. Volonaki,  The Agon in Classical Literature: Studies in Honour of Professor Chris Carey, BICS  Supplements, London (forthcoming).