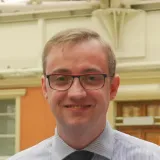 Professor Amedeo Chiribiri MBBS PhD FHEA FSCMR
Professor in Cardiovascular Imaging and Consultant Cardiologist
Contact details
Biography
Professor Amedeo Chiribiri received his degree in Medicine from the University of Turin (Italy) with an experimental thesis on the role of coronary endothelium in the modulation of myocardial contractility in 2001. He completed his training in Cardiology in 2006 and received his PhD in Experimental Medicine and Human Physiology in 2011.
After an experience as research fellow in human cardiovascular physiology the University of Turin, during his training in cardiology he has developed an interest in non-invasive cardiovascular imaging, in particular echocardiography, cardiac computed tomography and magnetic resonance imaging.
He is currently researcher in Cardiovascular Imaging and Biomedical Engineering at King's College London and Honorary Consultant Cardiologist at Guy's and St Thomas' NHS Trust Foundation (United Kingdom).
He is author/co-author of more than 80 scientific papers that appear in some of the most relevant international peer-reviewed journals and several book chapters.
His research is mainly focused on the non-invasive and high-resolution quantification of myocardial perfusion and assessment of coronary pathophysiology.