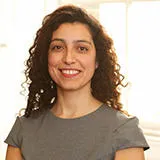 Dr Anat Keller
Senior Lecturer in Financial Law
Contact details
Biography
Dr Anat Keller is a Senior Lecturer in Financial Law. She joined The Dickson Poon School of Law in April 2016 and has previously taught at UCL (2007-2016). Dr Keller holds a PhD from the Centre for Commercial Law Studies at Queen Mary University of London, an LLM from the London School of Economics and first-class degrees in Management and Law (magna cum laude).

Dr Keller is a qualified solicitor of England and Wales and serves as a Deputy Chief Examiner of the University of London. Her monograph 'Legal Foundations of Macroprudential Policy: An Interdisciplinary Approach' was published in 2020 (Cambridge: Intersentia) and is available on Cambridge Core. Dr Keller is also a Research Fellow at the Centre for Data Analytics for Finance and Macroeconomics at King's Business School and a Fellow of the Higher Education Academy.
Research interest
Banking Law
Financial Law
Macroprudential Policy
The Regulation of Financial Technologies
Corporate Governance of Banks
For more information on Dr Keller's research, visit her profile on our research portal.
Teaching
Dr Keller is the module convenor of the following modules:
Banking Law (LLM)
The Law and Policy of FinTech (with Dr Jordanoska and Dr Lu)
Banking Law: The Relationship Between Banks and Their Customers (LLB)
Financial Risk (Online LLM) and Regulation
Financial Products (Online LLM)