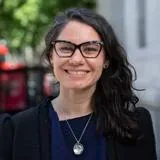 Dr Andreana Drencheva
Senior Lecturer in Entrepreneurship
Research interests
Strategy, International Management and Entrepreneurship
Contact details
Biography
Dr Andreana (Addy) Drencheva is a Senior Lecturer (Associate Professor) in Entrepreneurship at King's Business School. She received her PhD in work psychology in 2016 from the Institute of Work Psychology at the University of Sheffield.
Her research investigates why and how individuals and communities engage in (social) entrepreneurship and with what intended and unintended impact. For example, her research has examined 1) the role of values, motives, and identity in starting and managing social enterprises; 2) navigating the process of social entrepreneurship through identity work, sensemaking, feedback seeking, and resource mobilisation; and 3) the wellbeing costs of engaging in (social) entrepreneurship.
Andreana's areas of expertise include:
- Social entrepreneurship
- Entrepreneurship in the cultural and creative industries
- Entrepreneurs' identity, identity work, and wellbeing
- Entrepreneurs' feedback seeking
- Meaningful work
- Micro-foundations of entrepreneurship
Andreana aims to use her research as a platform for voices less frequently represented in journals published in the Global North, such as the voices of young social entrepreneurs in Southeast Asia, disadvantaged women entrepreneurs in Bangladesh, and refugee entrepreneurs in Malaysia.
She actively collaborates with social enterprises, such as East Street Arts and Rising Arts Agency, and support organisations, such as Impact Hub and Social Innovation Movement, to develop and deliver research projects that are useful for those on the ground. She also uses research insights to influence the social entrepreneurship ecosystem in how it supports social entrepreneurs as individuals and social enterprises as organisations.
Andreana's research has been published in leading academic journals, such as Entrepreneurship Theory and Practice, Journal of Business Venturing, Journal of Business Ethics, Business & Society, Journal of Small Business Management, Journal of Social Entrepreneurship, and Arts and the Market. Her work has also been featured in the mainstream media, such as BBC Radio, The Conversation, The Pioneers Post.
Andreana's PhD dissertation was a finalist for the National Federation of Independent Business Best Dissertation Award in 2017, while her research with young social entrepreneurs in post-conflict settings was nominated for the PRME Faculty Award for Excellence in SDG Integration in 2021. Her work has received more than £280 000 in funding, including from UK research councils and British Academy.
At King's, Andreana teaches on the MSc Medical Technology Innovation and Entrepreneurship and contributes to undergraduate entrepreneurship modules. She is a senior fellow of Advance HE (formally Higher Education Academy).
Before joining King's, Andreana was a Lecturer in Entrepreneurship at the University of Sheffield where she was a programme director for the MSc Entrepreneurship and Management and interim divisional director for impact, innovation, and engagement. Her experience includes teaching social entrepreneurship, entrepreneurship in the cultural and creative industries, new venture creation, and leading for innovation.
She has taught and supervised students at all levels, including undergraduate, postgraduate, and PhD. While at the University of Sheffield, Andreana received the Faculty Award for Teaching Excellence in Social Sciences in 2018 and was recognised for high-quality doctoral supervision in 2020 and 2021 through the SuperVisionaries.
Are you currently accepting PhD students?
Yes