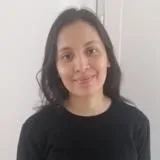 Anisa Muzaffar
PhD Student
Research interests
International development
Contact details
Biography
Anisa is a PhD student in the Department of International Development. Her research focuses on identifying the ways in which resource rich developing countries can gainfully insert and participate in agriculture value chains towards achieving sustainable income growth. Prior to pursuing her PhD at King's, Anisa worked in various public policy and research organisations for over 13 years. These include the Central Bank of Malaysia in the area of financial sector development; the United Nations Development Programme Malaysia in managing South-South Cooperation; and a brief attachment at the National Economic Action Council Malaysia. Anisa obtained her Master of Arts degree in Development Economics from the University of Sussex. Her dissertation was on 'Growth, Trade, and Deindustrialisation: A study of Industrialised and Developing Economies'. She completed her Bachelor of Science degree in Government and Economics from the London School of Economics and Political Science.
Research Interests
Thesis title: Global Value Chains and the Impact on the Development Trajectory of Agriculture: The Case of Natural Rubber in Malaysia
Anisa's PhD research focuses on how the advent of Global Value Chains (GVCs) and the related capital accumulation changes the development trajectory of the natural rubber industry in Malaysia. This includes understanding the nature of agriculture value chains, their upgrading trajectory, and the role of the state in ensuring sustainable income growth in the GVC-led natural rubber industry. Anisa is motivated by the fact that there has been a lack of focus on agriculture value chains, as there has always been a general bias towards the manufacturing sector value chains mainly from the perspective of advanced economies. She believes that resource rich developing countries should not follow the same GVC trajectory for the manufacturing sector but should instead leverage on the opportunities based on their resource rich position. Resource rich developing countries stand to benefit immensely from gainful insertion and upgrading in agriculture value chains.
PhD Supervision
Principal Supervisor: Professor Andy Sumner
Secondary Supervisor: Dr Juan Grigera
Further Information
Features
Find out why DID focuses on 'emerging economies' to understand development.

Features
Find out why DID focuses on 'emerging economies' to understand development.