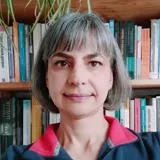 Dr Anita Hammer
Senior Lecturer in International Employment Relations
Research interests
Human Resource Management
Contact details
Biography
Anita Hammer is a Senior Lecturer in International Employment Relations/Human Resource Management at King's Business School. 
Anita Hammer researches and teaches comparative and international work and employment relations, with a particular focus on the Global South and multinational corporations.
Her research draws upon history, political economy and labour process analysis to examine informal and precarious work, automation and the 'future of work', migrant labour, job quality, and workers' movements/organisations in the Global South, especially India and the Middle East.
Areas of expertise:
Work and employment relations
Informal/precarious labour
Technology and work
Development, inequality and poverty
Labour/social movements and collective organisations
Multinational corporations
Global South
Anita collaborates widely with researchers living and working across the Global South. Recent publications from these collaborations include books (2023, 2020) and themed journal special issues (2021, 2022). Her research is published in key journals of the field, Work Employment and Society, Industrial Relations Journal, International Journal of Human Resource Management among others. She also participates in the international CRIMT partnership project on 'Institutional Experimentation and Work Improvement', a 19-university international partnership funded by the Social Sciences and Humanities Research Council of Canada https://www.crimt.net.
As part of wider engagement, Anita has conducted research for Advisory Conciliation and Arbitration Service Addressing Inequalities: The Role of Staff Race Networks, ACAS (2022) and is also associated with Advance HE on race and diversity.
Anita serves on the editorial boards of Work Employment and Society, Work in the Global Economy, Journal of Industrial Relations and Journal of Labor and Society. She is a member of British Sociological Association (BSA), British Universities Industrial Relations Association (BUIRA), and has a long-term engagement with the International Labour Process Conference (ILPC).
Prior to joining King's, Anita was Reader in HRM and Director of Postgraduate Research at Essex Business School, University of Essex. She received her PhD, MSc and PGCHE from the University of London, and is a Senior Fellow of the Higher Education Academy (HEA).
Anita enjoys and has considerable experience of doctoral supervision. She welcomes interest from candidates with some grounding in political economy, sociology, labour studies, history and development studies.
Are you currently accepting new PhD students?
Yes
Select publications
Global Rupture: Neoliberal Capitalism and the Rise of Informal Labour in the Global South (Brill, 2023) with Professor Immanuel Ness.
The Political Economy of Work in the Global South: Reflections on Labour Process Theory (Bloomsbury, 2020) with Dr Adam Fishwick.
Hammer, A., Keles, J. Y., & Olsen, W. (2022). Working Lives in India: Current Insights and Future Directions. Work, Employment and Society, 36(6), 1139–1154. https://doi.org/10.1177/09500170221083511
Hammer, A., & Ness, I. (2021). Informal and Precarious Work: Insights from the Global South, Journal of Labor and Society, 24(1), 1-15. https://doi.org/10.1163/24714607-20212000
Hammer, A. and Karmakar, S. (2021) Automation, AI and the Future of Work in India, Employee Relations: The International Journal, 43:6, 1327-1341. https://doi.org/10.1108/ER-12-2019-0452
Hammer, A. (2019). Comparative capitalism and emerging economies: formal-informal economy interlockages and implications for institutional analysis, Review of International Political Economy, 26:2, 337-360, DOI: 10.1080/09692290.2018.1554537