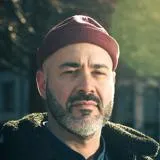 Dr Antonio Forte
Lecturer in Engineering
Contact details
Biography
Dr Antonio Elia Forte has been a Lecturer (equivalent of US Assistant Professor) in Engineering at King's College London since the autumn of 2021, where he leads the Reconfigurable and Adaptive Designs Lab (RADlab). The group is composed of 8 PhD students (1st supervisor of 4 of them) and 2 UG research students (funded through 2 KCL Undergraduate Research Fellowships). He is also Associate in Materials Science and Mechanical Engineering at Harvard Univeristy and Visiting Researcher at Imperial College London.
Antonio has a cross-disciplinary background in Computational Mechanics (PhD, 2011-2105 Imperial College), Neuroscience & Signal processing (Postdoc, 2015-2018, Imperial College) and Applied Mechanics (Fellowshop, 2018-2021, Harvard University).
He is recipient of the Global Marie Sklodowska-Curie Fellowship (PI, top 1% of ~10K submitted), the EPSRC Impact Accelerator Award (PI), the MRC Impact Accelerator fund (Co-I), and the NMES Teaching Award, among other prizes and recognitions, (NMES Enterprise & Engagement fund (PI), King's Artists Residency fund (Co-I), EPSRC Institutional Sponsorship Grant (Co-I), Regione Puglia "Principi Attivi" Grant (PI), Puglia Sound Export Award, Unisalento SOLAR Fellowship, WSS Award, European Commission Seal of Excellence, etc).
Antonio's work has been widely cited and featured on The Havard Spotlight (1, 2, 3), KCL News, various scientific outlets (4, 5, 6, 7, 8, 9, 10, to cite a few) and awarded with the covers of four of the most prestigious journals in his field (11, 12, 13, 14).
Antonio has expertise in computational modelling and has developed Finite Element Models for numerous applications (e.g., 15, 16, 17, 18) and contributed to the development of Reduced Order Models in various works (e.g., 19, 20). Additionally, he has experimental expertise in soft material characterisation (e.g., 21, 22, 23), the design and synthesis of novel materials (e.g., 24, 25, 26), and the development of new experimental rigs for 3D printing (e.g., 27, 28). The CH hydrogel, developed during his PhD studies, was the seed that gave birth to a successful UK start-up (Organa Technology), which produces highly accurate organ phantoms for medical device companies and surgical training centres.
As his research is immediately applicable to automation, Dr Forte has been involved in the design and manufacturing of novel inflatable robotic systems (e.g., 29, 30), intelligent mechanical valves (31) and snapping origami modules (32), which are all electronic-free. Such devices hold great potential for application in non-conventional environments, such as MRI facilities and space.
Antonio has employed machine learning and optimisation strategies to solve shape morphing and target reaching inverse problems in nonlinear mechanical systems (15, 16, 17, 32). Additionally, he is passionate about sound and the neural mechanism behind sound perception. He developed mathematical methods to measure the neural response to continuous speech using EEG signals (33) and employed ML to classify them (34, 35, 36). The code is available for everyone to download on github and the work was featured on the BBC science podcast.
During his academic journey, Antonio has also worked as consultant for a few companies, including InBev and Embody Orthopaedic, helping them to develop new products and optimising their designs to achieve durable performances, respectively.
Together with David Melancon (Polytechnique Montreal) and Benjamin Gorissen (KU Leuven), Antonio is organiser of "Functionality Through Nonlinearity" (split into Metamaterials and Soft Robotics), which is the third most attended focus session at the APS March Meeting. The APS March meeting is the largest (>12000 attendees in 2023) and most prestigious physics conferences in the world, known for its size, diversity of topics, and the presentation of cutting-edge research in various areas of physics. He has also been involved in the organisation of other international workshops and conferences (e.g., ICoBT, IERASG Biennial Symposium, STLE Frontiers etc.) and collaborations between researchers and artists (including AirGiants, a UK based art collective involved with King's thanks to the King's Artists Residency fund).
Antonio is also member and collaborator of the Automorph Network: a prestigious network of physicist, artists, designers and engineers across the world, with a focus on shape morphing matter and structures. Through the network, Antonio organises the Creative Differences Workshop, which is part of the London Biennale. He serves as "Expert" by reviewing grant and fellowship applications for the European Commission, and as reviewer for >20 scientific journals (including PNAS, Soft Matter, JMBBM, Materials & Design etc.) and prestigious conferences (ICRA, IROS, RA-L, etc).
Antonio is an active member of the UK Metamaterials Network (UKMMN) and liaises with the Horizon Scanning Special Interest Group, which recently identified Shape Morphing Metamaterials as one of the topics researchers across fields are most interested in. Additionally, he is a member of several scientific associations including IEEE, RAS, and APS, and member of the London Centre of Nanotechnology.
Antonio has a very active role in public engagement and outreach activities. He presented his work to the broad audience at the Imperial College Festival, the European Researcher Night, the MEETmeTONIGHT, and several Pint of Science events in London. He has also served as a testimonial for the "Connection to Science" exhibition organized by the British Science Association during the British Science Week. The exhibition's primary objective is to stimulate and inspire the upcoming generation to explore their personal associations with science and foster a sense of identification with real scientists. Antonio has actively contributed to the organization and deployment of Industrial tours and the ICRA 2023 tours in the King's Robotics labs to initiate conversations between researchers and industrial partners and foster collaborations. These were financially supported through the NMES Enterprise & Engagement fund he secured.
Antonio strives to raise awareness on EDI principles during his lectures and through his 2nd year Coordinator role for the Engineering Curriculum at KCL. As an example, he has introduced the "Everyone is Awesome" Lego® figure set for his 2nd year students to be used as scaled-down pilots in the design of remote controlled robotic space rovers. He constantly participates to EDI events in London and actively encourages his group to enrol in specialised EDI training at King's (i.e., Diversity Matter, Trans Matter and Microaggressions Training). Antonio believes that a diverse lab is a beautiful environment to work in, which stimulates discussions and creativity. The RADlab has a 60:40 ratio of women to men, with students coming from different countries, including Egypt, Iran, Canada, UK, and China. He is currently working on launching "DIVERSE_STEM": a series of scientific seminars (for broad audience) led by diverse scientists, to support the visibility of a diverse community, provide role models for our students and foster collaborations and networking.
Antonio is passionate about teaching and education. Throughout his life he covered several education roles, including volunteering in the Scout Movement (for ~10 years), tutoring musicians and STEM students; lecturing in UK and US universities, engaging with public audiences at numerous outreaching events, contributing to the development of the new curriculum in the Department of Engineering (policy for personal tutoring, new modules, etc.), and publishing research contributions in Education Science ("Strategies for embedding simulation in open-ended engineering design education", IRSPBL2023 MIT, and "What does a brain feel like?", 2020, Journal of Chemical Education).
Antonio is recipient of the King's Teaching Award from the NMES Faculty and 2nd year Curriculum Coordinator for UG General Engineering. He currently holds the highest teaching score in the Department of Engineering (~4.9 out of 5.0). Throughout his career he has supervised more than 50 students on UG and MSc individual projects, MSc group projects, and PhD projects.
Antonio is passionate about music and has been a professional musician for most part of his life. He performed with numerous bands in venues and at festivals around the world, including the SXSW 2017 (>250000 attendees, Austin, US) and the Heineken Jamming Festival 2010 (>100000 attendees, Imola, IT), along with bands like Aerosmith, The Cranberries and Stereophonics, to cite a few. He contributed to the organisation of small festivals and events including the Contronatura Festival (Lecce, IT). His musical work was published by several record labels and distributed worldwide on vinyl support. He is CEO of an award-winning start-up (Tenten Devices) that produces innovative music devices and received several funds from the Italian government. Antonio is also a passionate rock climber. He has climbed outdoor in the most iconic locations, including Red Rocks (Nevada), Joshua Tree (California) and the Peak District (UK).
Invited talks – last three years: Somerset House (Creative Differences Workshop 2023), University of Bristol (Softlab Seminar Series), University of Maryland (Tubaldi group), UCL (Lighten workshop), UCL (Dept of Mech Eng), SIAMM21(keynote speaker), MSE2020 (keynote speaker), Imperial College London (Bioengineering Dept), Warwick University (Dept of Mech Eng), London South Bank University (Dept of Mech Eng), EMI2020 (Columbia University, cancelled for COVID), Boston University (Dept of Mech Eng Seminar), Boston University (Moss Lab Seminar Series)
Research interests
Neural signal processing
Finite Element modelling
Soft Matter mechanics
Design of tissue-mimicking polymers and hydrogels
Mechanical metamaterials and architected materials for robotic application
Further information
Research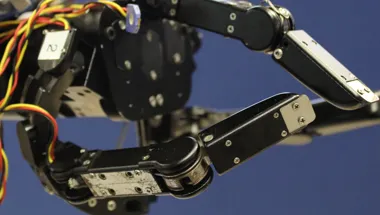 The group develops solutions to critical challenges faced in society where robot-centric approaches can improve outcomes.
News
Inverse design the material distribution in a membrane to obtain a target shape upon inflation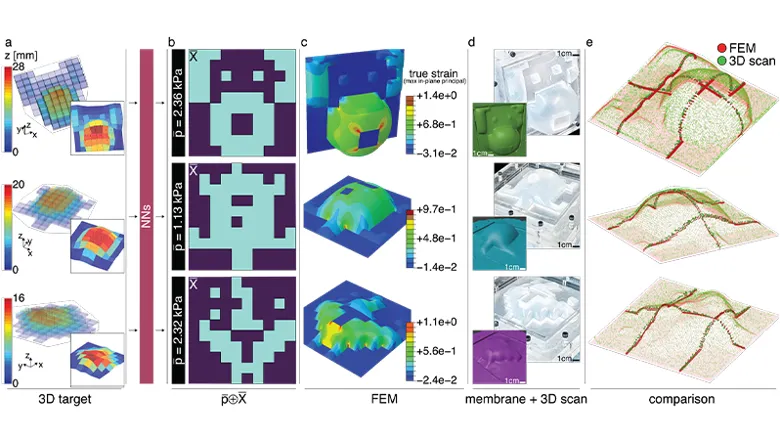 Research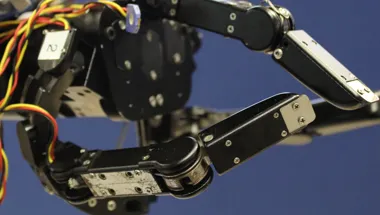 The group develops solutions to critical challenges faced in society where robot-centric approaches can improve outcomes.
News
Inverse design the material distribution in a membrane to obtain a target shape upon inflation