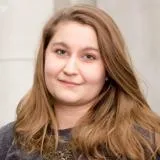 Caroline Candy
Student Engagement Officer
Contact details
Biography
Caroline used to work as an Education Visits Officer for English Heritage. She developed and worked on a variety of projects to actively support educational visits.
She helped to build the education programme to ensure English Heritage can continue delivering key education provision for schools and universities in London.
Caroline enjoys working with colleagues to support students as they progress through King's Foundations programmes and embark on their UK academic careers.