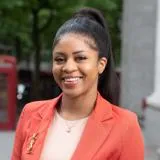 Dr Chiamaka Nwosu
Lecturer in Policy Evaluation
Research Fellow, Policy Institute
Research interests
Public Services Management & Organisation
Contact details
Biography
Chiamaka Nwosu is a Lecturer in Policy Evaluation. She also currently holds the role of Research Fellow at the Policy Institute where she serves as the impact evaluation lead for several education related projects involving children and young people.
Prior to joining Kings, she worked for five years on issues related to food insecurity in her capacity as a quantitative researcher in the Economic and Statistics Division at the Food and Agriculture Organisation of the United Nations, headquartered in Rome, Italy.
Her PhD which she completed at King's, was funded by the Office of National Statistics and focused on student higher education participation and attainment in the UK. Building on this, her main research area continues to be Higher Education (HE), paying particular attention to the access, continuation, progression, and attainment of non-traditional and underrepresented students in HE.
Are you currently accepting PhD students?
No