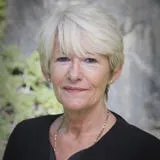 Nancy Rothwell PhD
Neuroscientist
Biography
Dame Nancy Rothwell (Queen Elizabeth College, Physiology, 1976; PhD Physiology, 1979) is a highly distinguished neuroscientist.
Nancy is a double of alumna of Queen Elizabeth College (which merged with King's College London in 1985), having studied for both her undergraduate and PhD here. Her early research identified mechanisms of energy balance regulation, obesity and cachexia (a disorder that causes weight loss and muscle wasting). She relocated to Manchester in 1987, becoming Professor of Physiology in 1994. She held a Medical Research Council Chair from 1998 to 2010. She continues to be an active researcher and her current focus is on the role of inflammation in brain disease.
Alongside her Faculty posts, Nancy became Vice-President for Research (2004-2007) and then Deputy President & Deputy Vice-Chancellor (2007-2010). In June 2010, she became the first woman to lead the University of Manchester or either of its predecessor institutions, when she was appointed President and Vice-Chancellor.
Nancy received a Doctor of Science of the University of London from King's in 1987. She was made a Dame in the 2005 Birthday Honours. In 2013 the BBC Radio 4's Woman's Hour placed her as the 15th most powerful woman in the UK.
Did you know? Nancy gave up studying biology at school because she found it 'boring'. She considered becoming an artist before moving into neuroscience at university.