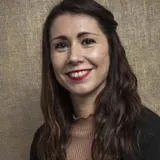 Dr Gemma Modinos
Sir Henry Dale Fellow
Reader in Neuroscience & Mental Health
Research interests
Mental Health
Neuroscience
Contact details
Biography
Gemma studied a BSc in Psychology at the Autonomous University of Barcelona, followed by an MSc in Applied Neurosciences at the University of Barcelona (Spain). She then moved to the Netherlands to do a PhD in Neuroscience (Cum Laude, highest distinction) with Profs. André Aleman and Johan Ormel at the University of Groningen. As a post-doc, Gemma moved to the UK to continue her academic career with Prof. Philip McGuire in the Department of Psychosis Studies at the Institute of Psychiatry, Psychology & Neuroscience (IoPPN), King's College London.  
In 2013, Gemma received a prestigious NARSAD Young Investigator Award to examine the relationship between functional MRI activation during emotional processing and glutamate levels in healthy people with high schizotypy. In 2016, she was awarded a King's Prize Fellowship to facilitate her transition to an independent research career, and shortly after received a Wellcome Trust & Royal Society Sir Henry Dale Fellowship, allowing her to initiate her own lab at King's College London (see Research). She is currently also an Honorary Senior Lecturer in the Departments of Psychosis Studies and Neuroimaging at the IoPPN, and intermittently a Visiting Scholar at Prof. Anthony A. Grace's lab in the Department of Neuroscience at the University of Pittsburgh (USA). She currently also Chairs the ENIGMA Schizotypy working group. Gemma is Fellow and Board Member of the Young Academy of Europe, an Academy of Medical Sciences' SUSTAIN participant, and was recently the first female to win the SIRS Rising Star award. 
Research Interests
The overall aim of my lab is to understand the role of the neural mechanisms involved in emotional behaviour in the development of psychotic symptoms and psychotic disorders such as schizophrenia, and to investigate whether targeting these mechanisms can help design new therapeutic strategies for psychosis. We do this through three interrelated research themes:  
Emotional circuit-based studies on the extended psychosis phenotype: We use neuroimaging methods and behavioural assays to characterise the neural correlates of social and emotional information processing across the psychosis spectrum (schizotypy, clinical high risk of psychosis, first-episode psychosis). 
The role of GABA/glutamate balance within emotional brain circuits in psychosis pathophysiology: We combine molecular imaging methods in rodent models of psychosis and in patients in the early stages of psychosis to link molecular mechanisms to functional and behavioural observations. 
Can we modulate emotional brain circuits to design new disease-modifying drugs? We use state-of-the-art translational in vivo imaging methods across species (rodents and humans) to allow a detailed analysis of the effects of pharmacological intervention on emotional brain circuits in the development of psychosis-like phenotypes. 
Research Groups
I am the Principal Investigator of the Modinos Lab (https://modinoslab.com).  
Expertise and Public Engagement
I have just been awarded a King's Artists award. This will involve having artist Izzy Parker in residence in my lab for the academic year 19/20. Our collaboration is entitled "Making emotions to reimagine mental health": https://www.kcl.ac.uk/cultural/artists-in-residence/artists-in-psychiatry-psychology-neuroscience/izzyparker 
I have also been an invited speaker at the following activities: 
- Royal Society representative at "Voice of the Future 2019", UK Houses of Parliament  
- "The Royal Society Platform: The Next Big Things", Hay Festival, Wales 2018 
- Pint of Science, King's College London, 2015