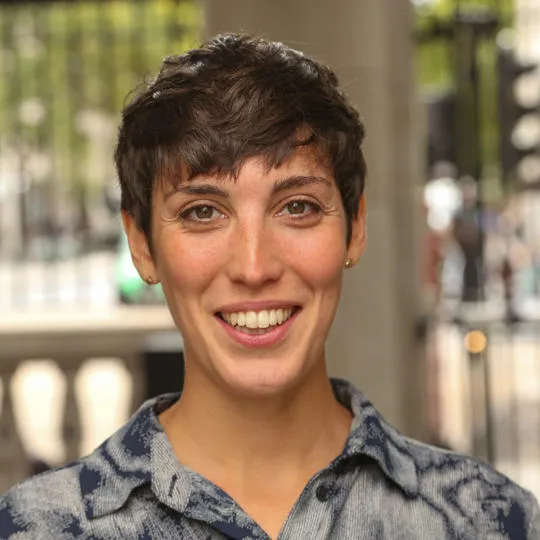 Dr Ella Parry-Davies
Lecturer in Theatre, Performance and Critical Theory
Contact details
Pronouns
she/her
Biography
In research and teaching, the question I continually come back to is: 'what is performance doing here?' This question positions my work between action and analysis, situating performance among relational systems of material, cultural and infrastructural power. My research takes performance as a method as well as an object of study, and I collaborate with 'experts-by-experience', using performance as a tool for collective critique and imagination. Prior to joining King's I held a four-year British Academy Postdoctoral Fellowship at the Royal Central School of Speech and Drama, which followed a Visiting Scholarship at De La Salle University, Manila. My PhD was jointly awarded by King's and the National University of Singapore.
I co-convene the Performance Studies International (PSi) working group on Performance and Critical Social Praxis, and co-founded the research collective After Performance. I am an Associate Editor of Performance Research, and as former editor of Contemporary Theatre Review Interventions I led on special issues on public health, transnational physical cultures and collaboration.
Research interests and PhD supervision
Migration and post/colonial cultural practices
- Theatricality, labour, and infrastructure
- Site-specific performance and spatial practices
- Ethics, co-creative research and critical methodologies
My work is primarily concerned with feminist and crip approaches to questions of labour and migration as they are represented, negotiated, or challenged through performance. In this context I have worked most extensively with migrant domestic workers, and recently produced a collection of co-edited sound walks with migrant domestic workers in the UK and Lebanon at homemakersounds.org, alongside working on related social justice and policy-focused co-research projects with migrant activist groups.
Selected Publications
2023 (forthcoming), 'Colonialism Reiterated: The Racialised Division of Labour in Higher Education and Beyond,' with Faisal Hamadah, Global Performance Studies 5.1, special issue on decolonisation.
2021, 'Immigration Infrastructure Theatricalised in Illegalised and The Claim', Contemporary Theatre Review 31.4 (open access).
2020, 'Modern Heroes, Modern Slaves? Listening to migrant domestic workers' everyday temporalities', Anti-Trafficking Review 15 (open access).
2020 'The Afterlife of a Walk: A Dialogue on the Possibilities of Anti-Racist Walking', with Sharanya Murali, Contemporary Theatre Review 30.4.
2019 'The Sea is Not a Highway: Performing Maritime Histories in the Not-Quite-Global City', Theatre Journal, 71.4 (open access).
Teaching
I teach across contemporary theatre and performance, with a particular focus on practice-research; gender and performance; political and activist performance; and critical theory and methodologies.
Expertise and Public Engagement
I have worked on policy and social justice-focussed research in collaboration with organisations in the migrant rights and anti-trafficking sector including the Voice of Domestic Workers, Kanlungan and the Alliance of Migrant Domestic Workers in Lebanon. This work has been featured by press outlets including BBC London News, OpenDemocracy, The Guardian, The Observer and The Independent. During the pandemic I produced three policy reports and a zine created by undocumented/illegalised Filipino migrants in the UK. I became a BBC New Generation Thinker in 2019, producing radio broadcasts on disability/crip justice, migration and domestic work. My research and collaborative practice has been showcased by the International Online Theatre Festival, Soundwalk September, Collisions, the British Academy and others, and has won or been shortlisted for awards including Times Higher Education Research Project of the Year, TaPRA Transformative Research and Early Career Researcher Prizes, and the PSi Dwight Conquergood Award.
News
New research conducted by the user-led organisation The Voice of Domestic Workers (VoDW) in collaboration with lecturer Dr Ella Parry-Davies, reveals the...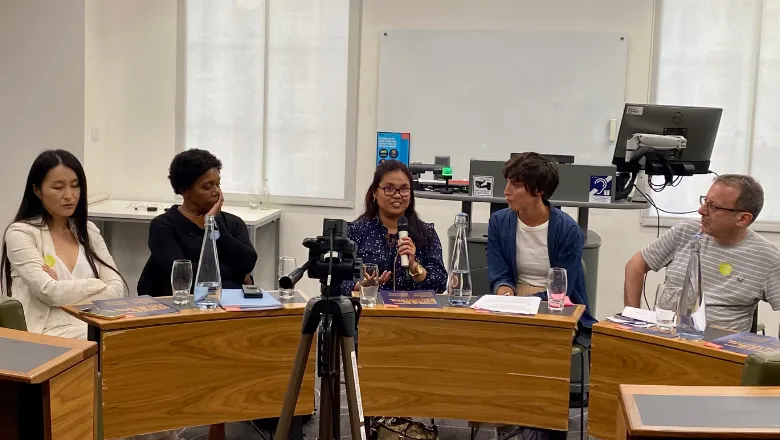 News
New research conducted by the user-led organisation The Voice of Domestic Workers (VoDW) in collaboration with lecturer Dr Ella Parry-Davies, reveals the...