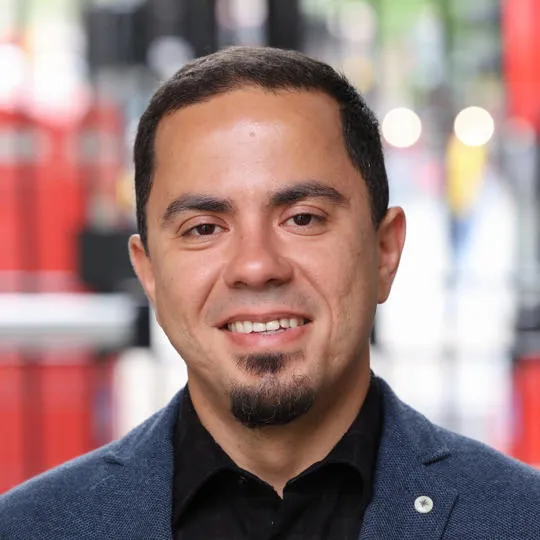 Dr Felipe Botelho Correa
Reader in Global South Studies
Director of MA Global Cultures; Deputy Director of Liberal Arts
Contact details
Biography
Born and bred in Rio de Janeiro, Brazil, Felipe has an MPhil and BA in Communication Studies (PUC-Rio), integrating aspects of both social sciences and the humanities. He then moved to the UK and completed a PhD in Modern Languages at the University of Oxford (Wolfson College) as a Clarendon Scholar, before joining King's in 2013. He is also an affiliate of the King's Brazil Institute and the Department of Spanish, Portuguese and Latin American Studies.
Research interests and PhD supervision
Felipe is a literary and cultural scholar with interests spanning literature, music, and print culture from the South Atlantic World, with a particular emphasis on Brazil and Latin America. He welcomes applications from prospective doctoral students who want to pursue research on the following topics:
Narratives and modern culture of Brazil from the 19th century onwards
Afro-Brazilian and/or Afro-Latin-American cultures
Race and race relations in Brazil
Periodical print culture and its history
Teaching
From race to music to literature to visual culture to history, Felipe teaches a range of Arts & Humanities modules at postgraduate and undergraduate programmes (Global Cultures; Liberal Arts; Spanish, Portuguese and Latin American Studies) that reflect his interdisciplinary expertise and have a Global South perspective.
Expertise and public engagement
Felipe is the editor-in-chief of the interdisciplinary academic journal Brasiliana, and has held fellowships at Princeton University and National Autonomous University of Mexico, as well as delivered invited talks at various events, festivals, and academic institutions in the UK, USA, Mexico, Mozambique, and Brazil.
A selection of media coverage of his research can be found in the links below:
Please see Felipe's Research Profile for further details.
Selected publications
Magazines and Modernity in Brazil: Transnational Networks and Cross-Cultural Exchanges (co-edited with Monica Velloso and Valeria Guimaraes). London: Anthem Press, 2020.
Cronicas da Bruzundanga: a literatura militante de Lima Barreto. Sao Paulo: e-galaxia, 2017.
Satiras e outras subversoes: textos ineditos de Lima Barreto. Sao Paulo: Penguin-Companhia das Letras, 2016.
Research
This research group analyses Brazilian culture and how class, regional, gender, racial and ethnic identities are expressed
Research
This research group analyses Brazilian culture and how class, regional, gender, racial and ethnic identities are expressed