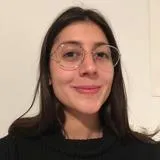 Francesca Lugaresi
Research Associate
Contact details
Pronouns
She/Her
Biography
Francesca is a Research Associate in the Heat and Fire Lab in the Department of Engineering at King's College London. Her current research focuses on the numerical modelling of fire behaviour of Lithium-ion batteries as part of the SAFEBATT project funded by the Faraday Institute.
She completed her PhD in the department of Mechanical Engineering at Imperial College London. Her PhD research focused on developing numerical models for simulating the behaviour of large structures exposed to fire and helped towards improving the fire safety of tall building facades. She holds a BEng in Structural Engineering and Architecture from the University of Edinburgh, and an MSc in Advanced Structural Engineering from Imperial College London.
Francesca enjoys science communication and has presented her research work to the industry at various CPD seminars and conferences, and exhibited in large public outreach events like the New Scientist Live and Science Museum. She is an active member of the Society of Fire Protection Engineers.
Francesca is passionate about Engineering Education. She has been working as a coding and engineering tutor for Richer Education since 2018. During her time at Imperial College, she has been involved in teaching Heat Transfer, Computing and Structural Fire Engineering courses as well as the Thermofluids Labs. She is a loving supporter of EDI initiatives.
Research interests
Fire science
Lithium-ion batteries
Structural fire engineering
Heat Transfer
Finite Element Modelling