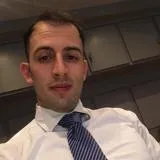 Mr Francesco Bruno
PhD Student
Contact details
Biography
Francesco Bruno is a PhD candidate in the Defence Studies Department at King's College London. His research focuses on the organisational and management practices of Al-Qaeda to maintain efficiency across its broad network.
He is an alumnus of the University of Manchester where he was awarded a Master of Arts (MA) in Peace and Conflict Studies in 2017. In the same period, he conducted fieldwork research in conflict-affected societies such as Rwanda and Bosnia & Herzegovina exploring the current state of the state-building processes in these countries.
He was awarded a first-class Bachelor Degree of Economic and Social Science (BscEcon) in International Politics from Aberystwyth University in Wales.
Research Interests
Terrorism
Counterterrorism
Social Networks
Religious Terrorist Organizations
Organizational and Management Theories
Publications
Bruno, Francesco (2017)Understanding the Impact of the Counter-Terror Agenda on Humanitarian Action, Otoritas : Jurnal Ilmu Pemerintahan - ISSN (Print): 2088-3706, ISSN (Online): 2502-9320.
Bruno, Francesco (2018) Drawing upon a Comparative Case Study of Iraq and Afghanistan Critically Assess the Success and Failures in the Negotiation Process to Get Personnel and/or Humanitarian Aid to Populations in Need, Journal of Administration and Public Governance, Vol 8, No 2.


BRUNO, Francesco (2018) What Was the Impact of Zionism on Displaced Jewish Refugees in Germany in the Aftermath of the Second World War? Journal of Public Administration and Governance, [S.l.], v. 8, n. 4, p. Page 127-136. ISSN 2161-7104. 
Thesis
Investigation concerning Al-Qaeda's core structure and ability to maintain effectiveness and efficiency within a polycentric network
My research focuses on understanding how Al-Qaeda is able to maintain efficiency across a polycentric network. Specifically, the research focuses on the organizational choices between Al-Qaeda's core and its network of over 30 different organizations across multiple countries. Since its initial strategy of expansion, Al-Qaeda can now count among its ranks between 30,000 and 40,000 soldiers across a number of branches in the Middle, South Asia and Africa. The research focuses on two points. First, it aims to uncover the localized strategies adopted by Al-Qaeda to enable the creation of such networks while keeping in mind their national and international strategies. Second, it aims to understand the relation between Al-Qaeda and the local population in terms of coexistence and support.
Supervisors