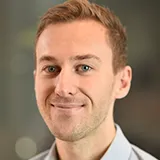 George May
Head of Communications
Contact details
Biography
George is Head of Communications at the Policy Institute and Global Institute for Women's Leadership at King's College London. He leads the institutes' external communications strategies, overseeing media engagement, publications, online and events, to ensure their work has significant impact.
A member of the senior leadership team at the Policy Institute, George also works closely with researchers to help produce flagship reports. Recent work has included publications on culture wars and inequality, as well as a series of high-profile surveys into public attitudes and behaviour during the Covid-19 pandemic. 
George held several communications roles prior to joining King's, including at an NGO working on drug policy, where he also carried out policy analysis and research. George has an undergraduate degree in French and Philosophy from the University of Sheffield, as well as an MSc in Public Policy from the University of Bristol.