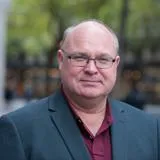 Dr Graeme Lockwood
Senior Lecturer in Law
Research interests
Human Resource Management
Contact details
Biography
Graeme Lockwood is a Senior Lecturer in Lawat King's Business School.
Graeme Lockwood's research expertise lies in the field of employment law, including both collective and individual employment law. Past research on the collective front has included an analysis of legal provisions pertaining to trade union governance and the impact of the law on collective bargaining and information disclosure. 
Previous research in the domain of individual employment law has involved an analysis of sexual harassment litigation in Britain. The research into sexual harassment in the workplace was supported by a research grant from the Leverhulme Trust. Graeme is currently working on a research project investigating individual workplace conflict and grievance.