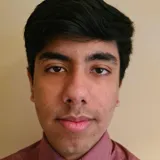 Harry Sharma
Research Operations Engineer (Intern)
Biography
Harry has been a Research Operations Engineering Intern since September 2023.

Prior to this placement he was undertaking his BSc in Computer Science with a Year In-Industry. He has built a foundational knowledge of many concepts that are now being used in the work place like CI/CD and automated testing.
He is in a unique situation of being a KCL undergraduate student taking a placement in his own University. Throughout his first 2 years as an undergrad, he has enjoyed creating Web applications, working with AI and on Networks.
While being an intern he is still helping to make meaningful change in documentation for the CREATE HPC system in e-Research. While helping with front end user tickets and helping with physical server maintenance, he is getting the realistic picture of what his chosen industry will look like when he graduates.