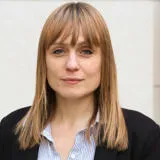 Dr Helen Adams
Senior Lecturer in Disaster Risk Reduction and Climate Change Adaptation
Contact details
Biography
Helen is an established expert in the field of climate-related migration with more than 15 years' experience in adaptation and resilience in research, policy, non-governmental organisations, teaching and engagement settings. She has been in the Department of Geography at King's since 2015, and from 2021-2022 was seconded to the UK Cabinet Office during COP26.
She is currently Co-Director of the King's Centre for Integrated Research in Risk and Resilience (CIRRR) and is leading research on transformative responses to climate change.
Helen joined King's from the University of Exeter (UEA), where she worked on the linkages between human well-being and natural resource dependence in marginal populations of Bangladesh, as part of the Ecosystems Services for Poverty Alleviation (ESPA) funded project, 'Assessing Health, Livelihoods, Ecosystem Services and Poverty Alleviation in Populous Deltas'.
She completed her PhD at the Tyndall Centre for Climate Change Research at the University of East Anglia (UEA) in 2012. Her thesis examined the role of the environment in migration decision-making in rural Peru.
Before joining UEA, Helen worked on adaptation to climate change in the Climate Change Expert Group of the Organisation for Economic Cooperation and Development (OECD) and the United Nations Framework Convention on Climate Change (UNFCCC), particularly on the Nairobi work programme.
Qualifications
Postgraduate Certificate in Academic Practice, King's College London (2016)
PhD in Environmental Social Science, University of Exeter (2012)
Master of Research in Environmental Social Science, University of Exeter (2008)
BSc in Natural Sciences, University of Durham (2005)
Research
Migration under environmental change
Immobility and place attachment
Transformational adaptation and resilience
Security implications of climate change
Ecosystem services and multi-dimensional wellbeing
Helen leads research in the field of climate-related migration, applying place attachment frameworks to elaborate the non-economic, emotional reasons why people decide to stay.
Her current research focuses on building habitability under climate change by supporting individuals in reconceptualising their relationship to place. 
Science policy interface
Helen is involved with high profile and global initiatives to ensure that the best available science informs action on climate change. She was a lead author on the Intergovernmental Panel on Climate Change (IPCC) Working Group II report on Impacts, Adaptation and Vulnerability, in Chapter 7 on Health, Wellbeing and the Changing Structure for Communities, and the Summary for Policy Makers.
She was also an author on the UK's third Climate Change Risk Assessment (CCRA3) that informs the UK's National Adaptation Programme. She was a contributing Author to Working Group II of the Intergovernmental Panel on Climate Change's fifth assessment report, on Chapter 12 Human Security.
From 2021 to early 2022, Helen was seconded to the UK Cabinet Office to lead on science engagement for the COP26 Presidency where she engaged international science institutions in support of the UNFCCC's Paris Agreement.
Engagement
Sharing research findings and engaging broad populations on the themes of climate adaptation and resilience is an important part of Helen's remit. She has worked with artists to create alternative outputs from her research projects, as well as those targeted at practitioners, for example, a graphic novel based on research with Syrian refugees and their host communities.
She regularly appears in television, radio and print media and has been interviewed on a range of podcasts discussing her work (Climate analysis for Green Blob, Climate change and refugees for BBC Radio 3, COP26 analysis for King's, and adaptation and resilience for the UK's FCDO).
Helen has recently joined the board of Greenpeace UK to support organisations in campaigning and raising public support for adaptation and mitigation action on the scale called for by the recent IPCC reports.
Teaching
Helen teaches on climate change adaptation and mitigation, disaster risk reduction and resilience, and human mobility at undergraduate and post-graduate level. She currently has two PhD students:
Rachel Harrington-Abrams, working on climate-related relocation
Jessica Lillquist, working on nature based solutions for coastal resilience
Previous students:
Alejandro Barcena (2020), Reassembling Risk and Urban Identities The Deployment of Dakar's Neoliberal Reform
David Smedley (2019), Overcoming dry spells through low cost adaptations among small holder farmers in the Volta, assessing biophysical and social viability.
Resources
Open access datasets associated with Helen's research can be downloaded from the UK Reshare:
Mechanisms and dynamics of wellbeing-ecosystem service links in the southwest coastal zone of Bangladesh. DOI: 5255/UKDA-SN-852356
Spatial and temporal dynamics of multidimensional well-being, livelihoods and ecosystem services in coastal Bangladesh. DOI: 5255/UKDA-SN-852179
Precarious Places: Social Cohesion, Wellbeing and Place Attachment in Refugee-Host interactions. DOI: 5255/UKDA-SN-853108
Further details