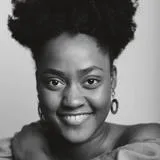 Ijeoma Chuku
Undergraduate student, BSc in Business Management
King's Business School Advisory Council Member
Contact details
Biography
Ijeoma Chuku is an undergraduate student, studying the BSc in Business Management. Having been a KBS20 member and Student Leader since her first year of study, she now sits on the King's Business School Advisory Council.
Performed as a Marketing Associate and Head of Corporate Relations at the King's Consulting and Financial Advisory society; and the Head of Marketing at Open Generation, a fundraising NGO focused on arts and culture.
With a creative mind, she is passionate about fashion, film and television, and editorial industries.
Being a graduate of the Enterprise Award from the Entrepreneurship Institute, she has an immense interest in innovation and sustainability. In January 2021, she founded a small sustainable fashion business, CHUKU, which currently upcycles and handmakes bags.
Having completed a Finance Internship at fashion start-ups Khanh Brice Nguyen and KBN Knitwear, she applied her financial and academic knowledge to a real business. Working closely with the start-up's Founder and Creative Director, Khanh.
At the end of 2022, she completed and graduated from the Financial Times News School and performed alongside FT CEO John Ridding; Google's Vice President in Marketing, Ben Malbon; and the creator of the Golden Globe and Emmy award-winning television show Ted Lasso, George Bryant; and many more.
Here, she expanded her knowledge of the news and media industry, which complements her work as a Researcher, Writer, and Editor. Her written work has been submitted to Netflix for their online video essays, Nataal Media and Norman Rea Gallery.