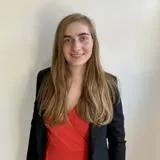 Iris Magne
PhD candidate
Contact details
Biography
Iris joined King's Russia Institute in October 2023 for her MPhil/PhD in Russian and Eurasian Studies. She has already contributed to research projects at Columbia University, King's College London, and the London School of Economics where she examined topics in the fields of global health, geopolitics, international relations theory and oral medical history. She is also involved in think tanks such as EuropaNova Germany and the Project for the Study of the 21st Century.
Iris holds a BA in History and International Relations from King's College London and a MSc in International Relations from the London School of Economics and Political Science. 
Research interests
Vaccine diplomacy
Russian soft power
Authoritarianism
Global health governance
International relations
Doctoral research
Biopolitics, Authoritarianism and the New Global Order: Russia's Policy in Central Asia
The COVID-19 pandemic triggered a transformation of the pre-pandemic world order with new power tools available for authoritarian competitors of the liberal order. The pandemic led to the rise of a new form of global competition constituted of two competitive edges: geopolitics (liberal/illiberal) and public health (globalist/statist). This research aims to demonstrate that this new competitive global order led to the increasing utilization of biodiplomacy – a concept combining sovereignty and biopower, describing the differentiation of lives and the administration of human bodies. Biodiplomacy enabled authoritarian states such as Russia to both promote their vaccines and advance their authoritarian governance. This statist and illiberal approach led to the strengthening of the illiberal/liberal competition and the weakening of the globalist approach to vaccine distribution. By defining security in biopolitical terms, authoritarian COVID-19 vaccine diplomacies were therefore the instruments of a new form of competition combining geopolitics and public health.
PhD supervisors
Professor Gulnaz Sharafutdinova and Professor Samuel Greene
Research projects
Iris is currently involved in research at Columbia University as part of The Pandemic Program: Writing the History of the Pandemic where she is part of two projects, 'The anti-vaccine sentiment in the US during the Polio vaccination campaign (1955-1965)' and 'Leadership in the COVID-19 response of Tunisia'. She also contributed to a publication in the review process for scholars in the Department of War Studies at King's.
Publications