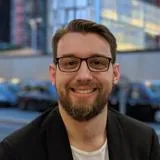 Mr Jack Morgan
PhD Student
Contact details
Biography
Jack is a PhD student at the Centre for Craniofacial Development & Regenerative Biology in the Green Lab working on the cellular mechanisms of palatal shelf elevation.
He was awarded an undergraduate degree in Biomedical Science from King's College London in 2019 and enrolled on the PhD programme at the Faculty of Dentistry, Oral & Craniofacial Sciences in the Green Lab the same year.
His keen interests in developmental biology were fostered during his undergraduate degree, wherein he worked in the labs of Dr. Clemens Kiecker and Prof. Anthony Graham on the role of WNT signalling in the developing hippocampus, and on the role of BMP7 in the development of the pharyngeal pouches respectively - both in the chick embryo. He then worked in the lab of Prof. Andy Copp at the UCL Great Ormond Street Institute for Child Health on gene-environment interactions in neural tube closure in mouse mutants. This stirred interests in both the merits of basic embryological research, and its potential for translational application to health research.
In his PhD project, Jack is researching mechanisms of palatal shelf elevation, such as cellular rearrangement and extracellular matrix expansion. Failures in this process lead to the development of cleft palate, one of the most common birth defects in live births. Using the mouse embryo and the latest advancements in genetic cell-lineage labelling, confocal microscopy and image analysis, Jack is working to elucidate which of these mechanisms occur and when in both normal and dysmorphic craniofacial development.