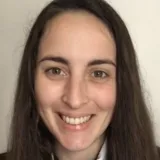 Jessica Bombasaro-Brady
PhD Student
Research interests
Conflict and security
Conflict
Crime
Security
Women
Contact details
Biography
Jessica is a part-time PhD Student in the Department of War Studies studying police reform in post-war Bosnia-Herzegovina. She works full-time as a Senior Lecturer at Canterbury Christ Church University in Policing & Applied Security Studies.
She earned an MA in Conflict, Security, and Development from King's College London (2014) and an MSc in Gender, Media, and Culture from London School of Economics (2012). She has presented her research at conferences, including the United Nations University in Iceland and University of Bologna in Italy.
She served in the Metropolitan Police Service (2015-2021), concluding her service as a Detective on the Homicide Command. She is the Policing Research Lead at Canterbury Christ Church University.
As a Detective, she worked in domestic abuse, international liaison, CID (Major Crime), and MIT (Homicide) Units. She is an accredited victim, witness, and suspect interviewer and served as an Advanced Exhibits (Crime Scene), Family Liaison, and Intelligence Officer in murder investigations.
Previously, Jessica worked at York Women's Prison in Connecticut, USA delivering decision-making courses, and in London delivering conflict resolution and violence prevention workshops to ex-offenders. 



Research Interests 


Security sector reform (SSR) particularly police reform, in post-conflict zones;
Disarmament, Demobilisation, and Reintegration (DDR) of ex-combatants; and
Gender-based violence in conflict.
Jessica's doctoral studies builds on her Master's dissertation, 'Policing the Peace: Police Reform and Sexual Violence in Bosnia,' in which she focused on police perpetration of crimes during the 1992-1995 war, subsequent police reform, and the legacy of officers' war-era crimes on public trust and accountability. She will widen field-work she began in the Balkans, interviewing police officers and victims of war crimes perpetrated by police-combatants. 
Thesis
Police Reform in Post-War Bosnia-Herzegovina
Jessica's dissertation explores the police reform campaign in Bosnia (1995-2012)established after the Bosnia-Herzegovina war and it's failure to confront the legacy of Bosnian police officers' war crimes. She underscores the link between ethno-political divisions and the role of police in Bosnian society, and their potential to undermine the fragile peace and degrade the public's trust in the police, and by extension, the state.
Supervisors


Dr. Mats Berdal and Dr. Kieran Mitton