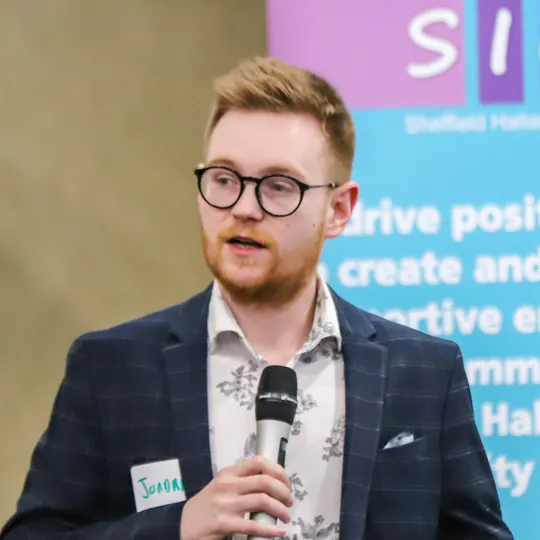 Jordan Kirkwood MBA BSc FHEA MAUA CMgr MCMI
Associate Director, Education
Contact details
Biography
As Associate Director, Education for the King's School of Professional and Continuing Education (PACE), I work with teams across PACE to deliver excellent student and education services, with responsibility for contributing to the continuous improvement of education, the student experience and student success in and beyond PACE.
Prior to this role, I joined King's in February 2020 as Head of Operations at King's Academy, leading on all operations for the education and learning development department. 
I'm passionate about giving back to our community and have been a founding member of a collective group for LGBTQ+ Staff Networks in Higher Education, the LGBTNoNHE since early 2018, and I'm working with primary schools as a Climate Education Volunteer.
I previously worked at Aston University, as an Apprentice Higher Education Manager, during which in my last position as Student Projects Office Manager, I founded the Student Projects Office, a project management office made up entirely of placement students.
Previous roles at Aston included working through a series of placements, undertaking three secondments at the University of Birmingham in Equality & Diversity for Students; Elon University in North Carolina, with the Center for the Advancement of Teaching and Learning and the Inclusive Community Development office; and Warwick University in the Warwick International Higher Education Academy (WIHEA). I also served as Vice President, Education and Welfare at Aston Students' Union from July 2015 to June 2016.
I am a Doctoral Student at the University of Sheffield, undertaking an Educational Doctorate part-time. Last year, I finished an Executive MBA at Aston University, undertaking a substantive project on a 'Comparative Analysis of two Higher Education Institutions: Exploring Complexity Leadership Theory and Adaptive Practices to develop new approaches to employee engagement, innovation, and entrepreneurship.'. I also undertook an Institute in Leadership and Management Level 5 Qualification in Coaching and Mentoring in 2020. I completed my Undergraduate in Politics with International Relations at Aston University, undertaking a placement year in Purchasing at Jaguar Land Rover in 2015. I went on to complete a Postgraduate Certificate in Learning and Teaching in Higher Education in 2017, becoming a Fellow of the Higher Education Academy. 
Latest Publications
Jordan Kirkwood (2019) The case for personal development, Perspectives: Policy and Practice in Higher Education, 23:4, 117-121, DOI: 10.1080/13603108.2018.1555192
Peter Felten, Sophia Abbot, Jordan Kirkwood, Aaron Long, Tanya Lubicz-Nawrocka, Lucy Mercer-Mapstone & Roselynn Verwoord (2019) Reimagining the place of students in academic development, International Journal for Academic Development, 24:2, 192-203, DOI: 10.1080/1360144X.2019.1594235