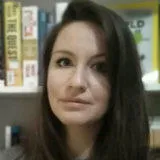 Kalina Damianova
PhD Candidate
Contact details
Biography
Kalina is a PhD candidate in Political Economy at King's Russia's Institute's Russian and Eurasian studies programme. Her research focuses on the evolution of Russia's gas sector in the wider context of the country's social, political and economic order; it explores the links between various aspects of Russian energy sector organisation including infrastructural lock-ins, limited access institutions, domestic balance of power and rent redistribution. As a GTA, she has been teaching at KCL since 2018 on several modules, including International Politics of Energy (at Department of Political Economy), Geopolitics of Energy (at King's Russia Institute) and Foreign Policy Analysis (Department of European and International Studies).
Prior to this Kalina was a Konrad Adenauer Stiftung (KAS) Energy Security Fellow at the European Centre for Climate and Energy Resource Security (EUCERS) at the Department of War Studies at KCL. There she conducted a one-year in-depth strategy study on Iran's oil and gas sector and worked on the (Re-)emerging energy superpowers project that included a series of Energy Talks, organised by EUCERS, KAS and the Institute of Strategic Dialogue (ISD). Apart from academia and think-tanks, Kalina has gained work experience from governmental institutions and the private sector (including the Ministry of Foreign Affairs of Bulgaria; the South Korean state-funded trade and investment promotion organisation, KOTRA, at the Commercial Section of the Embassy of S. Korea in Sofia; and a UK-based independent oil and gas advisory firm with a specialist focus on Iran).
Kalina has a Master's degree (Dist.) in International Peace and Security from the Department of War Studies of KCL and a Bachelor's degree (First-Class Hons.) in International Relations (a four-year programme) from the Faculty of Law of Sofia University.
Research Interests
Political economy of energy
Energy sector organisation and policymaking in Russia/Europe/Eurasia
Energy transitions
International politics of energy
Energy (in)security in Europe/Eurasia
The intersection between energy and security issues
Publications
Damianova, Kalina. K. Iran's Post-sanctions Oil and Gas Management. In: Raszewski S. (eds) The International Political Economy of Oil and Gas. International Political Economy Series. Palgrave Macmillan, Cham, 2018. (Book Chapter) https://doi.org/10.1007/978-3-319-62557-7_12
Damianova, Kalina K. Iran's Re-emergence on Global Energy Markets: opportunities, challenges & implications. London: The Department of War Studies KCL/EUCERS/ Konrad Adenauer Stiftung (KAS), 2015. (Strategy Study)
Damianova, Kalina K. and Nascimento, Flavio Lira Augsuto. (Re-)emerging Energy Superpowers. EUCERS Energy Talks 4. London: Konrad Adenauer Stiftung (KAS), 2015. (Policy Recommendation Report)
Damianova, Kalina K. and Kuhn, Maximilian. Review of: Iran's Natural Gas Industry in the Post-Revolutionary Period Optimism, Scepticism and Potential, by Elham Hassanzadeh, The International Energy Law Review (IELR), Sweet & Maxwell, Thomson Reuters, Issue 5, 2015. (Book Review)
A number of short articles, comments and other publications on the topics of energy in Russia, Iran, the Black Sea region and international sanctions regimes for think-tanks and other non-academic outlets.
Awards and Honours:
Economic and Social Research Council (ESRC), London Interdisciplinary Social Science Doctoral Training Partnership (LISS DTP) +3 studentship; Pathway 12 Strategic: Regional & Security Studies (similar to previously used: KISS Theme 15 Military & Regional Security) 2016/2017 competition
Konrad Adenauer Stiftung Energy Security Fellowship at EUCERS, KCL 2014/2015
Dep. of War Studies, King's College London, Distinction: MA International Peace and Security 2013/2014
Supervisors