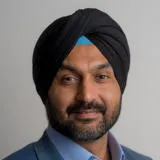 Kamldeep Singh Sandhu
PhD Student
Biography
Kamaldeep Singh Sandhu is a doctoral student at the War Studies Department, King's College London. His research interests include South Asian security, military culture and defence diplomacy. An alumnus of National Defence Academy, Pune, Army War College, Mhow and the Royal Military Academy Sandhurst, he has served as an officer with the Indian army's Parachute Regiment for ten years and is currently serving as an officer with the British Army Reserve. He completed his MA in 'War in the Modern World' from the department of War Studies at King's College London in 2014. His MA thesis analysed the asymmetric escalation of conflict, from sub-conventional to nuclear level, between India and Pakistan.
Research Interests
Defence Diplomacy
Military Culture
South Asian Security
India's Conventional Deterrence
India-Pakistan Relations
Doctoral Research
India's Defence Diplomacy in the Immediate Neighbourhood: 1998 – 2018
Defence diplomacy has been defined as the use of armed forces for purposes other than war, to pursue foreign policy and security objectives of a state. Although the concept is not new and has been in use since the beginning of organised warfare, the practice of modern defence diplomacy is novel in certain parts of the world, especially South Asia. India, in particular, disdained from engaging in defence diplomacy for many years.
However, things changed at the turn of the century. The economic growth that began in the early 1990s had a cascading effect on India's hard and soft power projection capabilities. Emerging as a significant player in regional and global affairs since then, India has used all the available tools, including defence cooperation, to expand its influence and status in the international order. In the last two decades India's defence cooperation has increased tremendously, notably in the immediate and the extended neighbourhood. However, the results have been inconsistent with the efforts. The Indian armed forces have succeeded in developing a magnitude of trust and relationship with the countries that they have engaged with.  Yet India has not been able to achieve the desired relationship with some countries.
In the immediate neighbourhood, the relationship continues to be dominated by coercive measures and lack of confidence rather than by cooperation and trust. The good relations and understanding between the armed forces could not translate into sustainable periods of bonhomie, peace and friendships. Or in other words, the success of the defence diplomacy could not be translated into a successful foreign and security policy. This reflects a huge gap in understanding the role that defence diplomacy plays in managing international relations. The factors that drive and shape India's defence diplomacy and connect it with the government's desired foreign and security policy need to be explored and examined in detail. This is the challenge I tackle in my thesis.
Supervisors