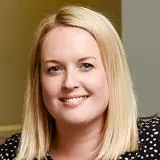 Louise Gough
Director of Service Strategy & Planning
Contact details
Biography
Louise is the Director of Service Strategy & Planning and is responsible for leading the delivery of our strategic ambitions for Service at King's College London.
Service is the term the King's community chose to describe the university's historic and continued commitment to be 'in service to society', both through and beyond the traditional roles of education and research. Service embodies our dedication to delivering positive social impact at home in London, across the UK and around the world. The Service strategy: A framework for delivery 2018-23 sets out our ambitions for Service at King's. The Service Team works in partnership with students, staff, communities and partners to fulfil our ambitions to make the world a better, more sustainable and fairer place.
Louise joined King's in 2010 and has worked in several organisation development and strategy and planning roles, firstly in the Fundraising & Supporter Development Team and subsequently in the central Strategy, Planning and Analytics Team. Significant projects have included developing and launching King's Strategic Vision 2029, The Global Institute for Women's Leadership, and the International School for Government.
Louise has a BA in Geography and a MSc in International Poverty Reduction and Development Management from the University of Birmingham. Prior to working at King's, Louise worked in community development for a socially responsible agribusiness in Malawi.