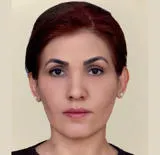 Dr Mansooreh Saniei
Lecturer
Contact details
Biography
Dr Mansooreh Saniei is one of the leading experts in reproductive and regenerative medicine and emerging science and technology in the Muslim nations and the Middle East region. She has an interdisciplinary background in nursing education and research, bioethics and social sciences.
Mansooreh completed her PhD in Biomedicine, Ethics and Society at King's College London in 2017 and has two master degrees in nursing education from National University, Iran, and in Bioethics from Erasmus Mundus Masters Program from Catholic University of Leuven, Belgium. She is currently a part-time Lecturer in the Department of Global Health & Social Medicine, with particular reference to Bioethics & Society.
Prior to joining the department, Mansooreh was a Wellcome Trust funded postdoctoral fellow in the Department of Political Economy, where she worked with Professor Brian Salter on a project entitled "The New World of Medically Assisted Reproduction and Ethical Governance in the Muslim Middle East", aimed to set the agendas for a further research studies, and to establish an international interdisciplinary network of scholars working on various fields of governance of reproductive medicine, and support the future relevant projects. Mansooreh is a member of the Aga Khan University working group of Ethical Guidelines on Regenerative & Reproductive Medicine in the Muslim World.
In addition to her longstanding research interests in reproduction and emerging technologies, Mansooreh has developed more recent interests in AI for health and eHealth. Since 2020, she has consulted for the WHO working group of Artificial Intelligence for Health and Medicine, and the International Society of Tele-Health and eHealth. She has previously worked as a member of clinical research team and ethics advisor at St Mark's Hospital Research Foundation, NHS Trust; where she was nominated for the Year's Staff Excellence Awards in 2018.
Mansooreh serves in the editorial board of the Journal of Bioethical Inquiry, and is a reviewer for a variety of journals including Journal of Reproductive Biomedicine & Society Online, Journal of Religion & Health, and the Stem Cell, Springer Publisher and Berghahn Books.
Research
Emerging science & technology, ethics and governance
Reproductive technologies, cultures and religions
Reproductive care and global markets
eHealth (in) justice
Teaching
Undergraduate
4SSHM002: Introduction to Global Health 2
Postgraduate
7SSHM616: Critical Bioethics
7SSHM606: Global Health Ethics
PhD supervision
Mansooreh would be happy to supervise students in any of the following areas:
Social science and ethical governance of emerging bioscience and technology
Ethical governance of reproductive medicine
Ethics and policy of regenerative medicine and stem cell technology
Religion and governance of biotechnology in the Muslim world
Further details