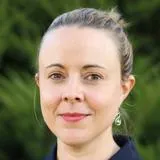 Dr Marguerite Muller
Lecturer in Education and Society
Contact details
Biography
Marguerite Müller is a lecturer in Education and Society and leads the MA Education Management programme.
She holds a BA in Fine Arts, a PGCE, a Master's of Education, and a PhD in Higher Education studies. Marguerite has taught in various educational contexts from South Korea to South Africa.
In her research, she employs post-qualitative, narrative, participatory and arts-based inquiry to explore issues of educator identity and subjectivity in the higher education space. Her goals are to engage in innovative and accessible scholarship of education that contribute to a fair and just society for all.
Research and PhD supervision
Dr Muller's research interests include: 
Social Justice in Education Leadership.
Decolonisation and Decoloniality in Education.
Creative Arts Education.
Teacher Developmental Studies.
Arts Based Inquiry.
Narrative Inquiry.
Participatory methods of inquiry.
Visual methodologies.
Self-study.
Post-qualitative inquiry.
She is interested to supervise PhD students in the following areas: 
Arts-based and post-qualitative educational research.
Educator subjectivity and identity.
Education transformation.
Social Justice in Education.
Decolonisation of Education.
Teaching
Dr Muller leads the MA Education Management on which she teaches the modules:
Education Leadership
Gender, Power and Inequality in Education Leadership
On the BA Social Sciences, Dr Muller teaches the 'Education for the 21st century: a global perspective' module.
Research
The Centre for Public Policy Research is an interdisciplinary research centre research developing critical analyses of social change and social in/justice in education and other policy arenas, sectors and contexts to inform national and international policy debate, social activism, and personal, professional and organisational learning.
Events
Dr Maren Elfert examines the relationship between the World Bank and the United Nations Educational, Scientific and Cultural Organization (UNESCO) between the...
Please note: this event has passed.
Features
The School of Education, Communication & Society at King's College London houses research from a range of different fields – from linguistics to education...

Dr Marguerite Muller, who joined the School of Education, Communication and Society in January 2022, talks about the freedom that academia affords her, how...

Find out about some of the research projects underway across the Faculty of Social Science & Public Policy