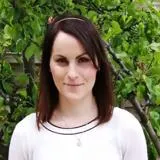 Mariam Ghorbannejad FHEA
Learning Developer
Biography
From March 2023, Mariam is on Maternity Leave. 
Current Role 
As a Learning Developer, I empower undergraduate and taught postgraduate students to develop independent learning skills and academic literacies to help them succeed in their studies by providing high quality student-centred resources and activities. I oversee the one-to-one academic skills service and manage and develop a team of King's PhD Academic Skills Tutors. I work with a variety of stakeholders to embed academic literacies in the curriculum and contribute to the development of educators.
I am passionate about increasing access to education and ensuring all students feel valued, welcomed, challenged and supported in their academic work to allow them to reach their potential. My research interests include inclusive pedagogies and student transition.
Previous Experience 
Prior to joining King's Academy, I worked as an editor at the Middle East Centre of LSE where I managed international research collaboration projects and supported early career academics with the publication of their policy papers. In the LSE Values in Practice Awards 2021-22, I was nominated in the EDI Champion category for my work as a Fair Recruitment Adviser to challenge unconscious bias in hiring decisions at grade 7 and above and as an Equity Assessor to identify the impact of new policies on various groups and ensuring all students feel a sense of belonging at LSE.
I previously worked as an English for Academic Purposes (EAP) Tutor at St Mary's University, Twickenham where I pursued fellowship of Advance HE via the CPD route. I was awarded fellowship in March 2022. Prior to this, I worked as an EAP Tutor at King's Foundations for three years and taught on the University of Oxford online pre-sessional for two summers. In 2019, I was nominated for a King's Education Award for Inclusive Education.
I hold a BSc (Joint Honours) in Mathematics with Management from Imperial College London and a Master's in Economics from University College London. Prior to King's Foundations, I worked as a mentor, teacher trainer and teacher at the British Council in Cairo and as an editor and writer. I have also worked for various international organisations and think tanks.
I have spent many years living in the Middle East; long stints in Cairo, a few months in Tehran and Beirut and a year in Damascus until the outbreak of the civil war. I have been involved in various educational projects supporting Syrian refugees. At King's, I worked with a team of tutors to design English language MOOCs aimed at displaced Syrian refugees living in Jordan and Lebanon and led a group of students on a pilot trip to Greece to teach mainly Syrian refugees as part of the Sanctuary Programme. At the British Council, I designed the face-to-face component of an English course supporting Syrian refugees in higher education in Egypt.
I am a Fellow of Advance HE.