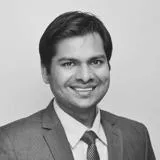 Dr Mohit Arora
Lecturer in Engineering
Contact details
Biography
Mohit is a Lecturer in Engineering at King's College London. He examines engineering-policy challenges around development and decarbonization, investigating circular economy and net zero pathways for industries and society at different governance levels. He combines methods from engineering systems, industrial ecology, design science, and technology policy to deliver translational solutions.
Prior to joining King's, Mohit worked as a Research Associate at Imperial College London, University of Edinburgh and SUTD-MIT International Design Centre, Singapore. He is an alumnus of Indian Institute of Technology Bombay and received his PhD from Singapore University of Technology and Design.
His research has won several recognitions including an Ernst Mach Fellowship, Train@Ed Marie S. Curie Fellowship, RCR Best Paper Award and Royal Academy of Engineering Frontiers seed fund (x3). He has previously worked at the United Nations in Southeast Asia and collaborates closely with several UN agencies. With a strong focus on Impact, he is very keen to expand private and public sector collaborations for net zero transition across the world.
Research interests
Industrial Ecology
Circular Economy
Decarbonisation Strategy
Net Zero Built Environment
Sustainable Design and Development