 Mr Abdoolkarim Vakil
Lecturer in Contemporary Portuguese History
Contact details
Biography
Abdoolkarim Vakil studied his BA in History and Economics at York University before becoming a Lecturer in Portuguese Studies, University of Leeds. From there he went on to become a Lecturer in Contemporary Portuguese History, and Head of Department in the Department of Portuguese & Brazilian Studies at King's College London. Abdoolkarim has recently also become a Lecturer in the Department of History at King's College London.
Research Interests and PhD Supervision
Nineteenth and twentieth Century Portuguese Intellectual and Cultural History
Nationalism, Identity politics, colonialism, postcolonialism
Islam, Muslims, Muslim politics
Historiography, Historical Representations, Heritage policies and politics;Oliveira Martins and the history of nineteenth century social science;
Nationalist discourses, politics and cultural movements; traditionalism, Integralismo Lusitano Portuguese colonial policy and governance of Muslim communities; contemporary Muslim communities in Portugal and Europe; Islamophobia.
Mr Abdoolkarim Vakil would particularly welcome applications from research students interested in working on topics relating to:
Nineteenth and twentieth century Portuguese History, Politics, Culture and Society
Portuguese Intellectual History, Historiography and Cultural politics
History of Islam and Muslim communities in Europe and the Lusophone world
For more details, please see his full research profile.
Expertise and Public Engagement
Mr Abdoolkarim Vakil is a former Honorary Associate Director of the Institute of Romance Studies, School of Advanced Studies, University of London and is a joint Editor of the journal Portuguese Studies.
News
Abdoolkarim Vakil delivers keynote speech to celebrate the 50th anniversary of the CIL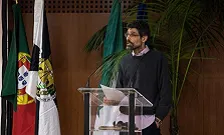 News
Abdoolkarim Vakil delivers keynote speech to celebrate the 50th anniversary of the CIL