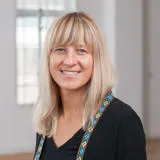 Miss Nadine Scholz
PhD Student in Strategy, International Management & Entrepreneurship
Research interests
Strategy, International Management and Entrepreneurship
Contact details
Biography
Year of Entry: 2019, Full-Time
Supervisors: Professor Marcela Miozzo, Dr Gabriela Gutierrez-Huerter O
Working Title: Experimentation and emerging organizational setups in corporate innovation and venturing 
Nadine Scholz is a PhD student under the supervision of Professor Marcela Miozzo and and Dr Gabriela Gutierrez-Huerter O and recipient of the King's Business School Studentship. Her research focuses on experimentation in corporate innovation and venturing and the emerging organizational setups facilitating this.
Nadine holds a double degree in BA Business Administration from the University of Applied Sciences Munich, Germany, combined with a banking traineeship. She completed her MSc in Innovation Management & Entrepreneurship at the University of Manchester, UK, with distinction and received the Student's Award for Outstanding Academic Achievement.
Subsequently, she published her master's thesis with Springer (May 2014): The Relevance and Impact of Crowdfunding on the Innovation Process of Small Entrepreneurial Firms.
Since 2014, Nadine has worked as research assistant in multiple innovation management and policy research projects. Before joining King's, Nadine has helped in building and growing several tech startups and teams in Germany, France and the UK. She currently teaches in the modules Entrepreneurial Finance and High Technology Entrepreneurship & Commercialization.