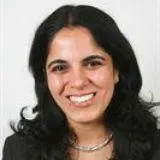 Dr Nilima Gulrajani
Research Affiliate
Contact details
Biography
Dr Nilima Gulrajani is a Senior Research Fellow at the Overseas Development Institute (ODI). She leads a research programme centred on building donor capacity and investigating comparative trends and policy innovations in development management. 
She spent a number of years as Assistant Professor at the London School of Economics and Political Science, where she taught international public management and global development. She also previously worked as an international economist within the International Trade and Finance Group at the Canadian Ministry of Finance, the World Bank and the International Development Research Centre.
Nilima has published extensively in both peer-reviewed, policy and media outlets and currently serves as an editor of the journal, Public Administration and Development. She continues to consult widely with government, non-profit, corporate and philanthropic organisations. She is a Board Member at international NGO, Integrity Action.
She obtained her PhD from Trinity College, Cambridge where she was a Bill Gates Scholar.
Nilima's research applies organisational and management theory to study trends and practices in the field of international development cooperation. She has a particular interest in the comparative analysis of bilateral donor agencies, especially their architecture, governance, strategy and performance.