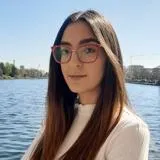 Pantelitsa Dimitriou
Research Associate
Contact details
Biography
Dr Pantelitsa Dimitriou is a Research Associate in the Wallace Group in the Department of Chemistry, King's College London.
Pantelitsa received her BSc (Physics) from the University of Leicester, in 2017. She then went on to receive her MSc degree (Bioengineering) from the University of Nottingham. In 2023 she completed her PhD at Cardiff University, where she focused on the design and fabrication of 3D-printed, droplet-producing microfluidic devices that produce platforms applicable to cancer screening and synthetic biology.
Research interests
Fused Filament Fabrication and VAT Polymerisation 3D-Printing Technologies
Droplet and Multiple Emulsion Microfluidics
Bottom-up Artificial Cell Construction
Her current research explores the combination of droplet-microfluidics, multiple emulsions and hydrogels in the formation of artificial bacterial envelopes.
More information