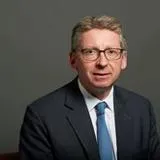 Paul Goswell
Independent member of the College Council
Biography
Paul Goswell has been a member of the College Council and Chair of the Estates Strategy Committee since 2015. He also sits on the Governance and Nominations, Remuneration and Chairs Committees.
Paul is the Managing Director of Delancey, a real estate business specialising in investing in, developing and managing commercial and residential properties in London and the rest of the UK.
He has also advised a diverse range of other organisations on a non-executive basis including Somerset House where he is a Trustee, the Royal Institute of International Affairs ("Chatham House") where he sat on their Buildings Advisory Committee and the Royal Albert Hall where he sat on the Development Board.