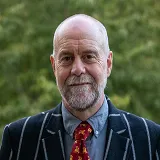 Professor Andrew Lambert FKC
Laughton Professor of Naval History
Contact details
Biography
Biography
Andrew Lambert is Laughton Professor of Naval History in the Department of War Studies at King's College. After completing research in the Department he taught at Bristol Polytechnic,(now the University of West of England), the Royal Naval Staff College, Greenwich, and the Royal Military Academy, Sandhurst. He is a Fellow of the Royal Historical Society and also Director of the Laughton Naval Unit housed in the Department. In 2020 he was made a Fellow of Kings College London (FKC).
His work focuses on the naval and strategic history of the British Empire between the Napoleonic Wars and the First World War, and the early development of naval historical writing. His work has addressed a range of issues, including technology, policy-making, regional security, deterrence, historiography, crisis-management and conflict. He received the 2014 Anderson Medal for The Challenge: Britain against America in the Naval War of 1812.
Professor Lambert has lectured on aspects of my work around the world, from Australia and Canada to Finland, Denmark and Russia.
Research Interests
Areas of interest include:
Naval history
Strategic history
History of technology
Historiography
Recovering Robinson Crusoe
In December 2010 Professor Lambert joined a German documentary/academic expedition to Robinson Crusoe Island, one of the Juan Fernandez Islands, 400 miles west of the coast of Chile. The expedition focused on the relationship between the fictional character of Crusoe, one of the best known of all literary inventions, the story of Scots sailor Alexander Selkirk, who was marooned on the island for four years in the early eighteenth century, and the development of British global strategy that culminated in the arrival of Commodore George Anson's naval expedition in 1741. Read the full story here: Recovering Robinson Crusoe
Publications
Most recent publications include:
The British Way of War: Julian Corbett and the Battle for a National Strategy, Yale 2021. You can also listen to the War Studies Podcast episode on this book.
Seapower States, Yale 2018, has won the 2018 Gilder Lehrman Book Prize in Military History 
For a full list of publications visit the Research Portal or download  this document