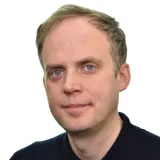 Professor Tobias Blanke
Professor in Social and Cultural Informatics
Research interests
Computer science
Philosophy
Contact details
Biography
Tobias Blanke is Professor of Social and Cultural Informatics. My background is in both computer science and philosophy. My interests lie in human-centred AI and data sciences practices. I have led several projects from open linked data to document mining and information extraction for research.
Please, check my research profile to find out about some of them.
Research Interests and PhD Supervision
Artificial Intelligence
Social and Cultural Analytics
Research Infrastructures
My current work focuses on AI and its implications for society as well as developing novel computational approaches to analyse digital culture and society. I am an investigator on five nationally and internationally funded research grants, which explore advanced data analysis of society and culture. For King's, I lead on our work in the European Holocaust Research Infrastructure, a cluster of multinational projects bringing together Holocaust resources across Europe, the United States and Israel.
I have published three monographs; most recently, Digital Asset Ecosystems – Rethinking Crowds and Clouds, which offers a new perspective on the collaboration between humans and computers in global digital workflows. Currently, I am working on a new interdisciplinary book project called Algorithmic reason: the new government of self and other. The book offers an analytical framework to understand how self and other are governed algorithmically, without subscribing either to rupture or continuity. It adopts a global perspective on these algorithmic transformations, and particularly their political effects in drawing boundaries and materialising differences. To discern what is distinctive about how algorithmic reason shapes contemporary modes of governing globally, the book is structured around our key social and political concepts and their algorithmic recompositions across empirical sites.
For more details, please see his full research profile.
Teaching
Tobias supports the teaching on MA Big Data in Culture and Society. His teaching focus is on advanced digital methods to analyse culture and society.
Research
Explore research at King's through the Centre for Technology, Ethics, Law and Society (TELOS)
Research
Explore research at King's through the Centre for Technology, Ethics, Law and Society (TELOS)